Reliable Commercial Restoration in Longmont, Colorado
If you own a commercial property, you know that disasters can strike in an instant. Things are running smoothly, then a pipe bursts and you're ankle-deep in water or someone isn't paying attention and a spark causes a fire. When the worst happens, you need a dependable restoration company on your speed dial for your Longmont business.
24-7 Restoration in Longmont, Colorado will spring into action to help minimize the damage to your commercial property and start the cleaning and rebuilding process. The sooner a professional team begins to halt the damage, the fewer costs you will incur and the sooner they can begin the restoration of your property. 24-7 Restoration offers a variety of commercial restoration services available to protect your property and give you peace of mind.
Water Damage Cleanup
Water can be one of the most destructive forces of nature. From an overflowing sink to a roof with a hole in it, water can cause a lot of damage to your commercial property. This damage continues even after the water stops flowing.You must get rid of the water and dry the space out properly before you can begin the cleanup, which makes it vitally important that you have a relationship with a restoration company that can help you no matter what time disaster strikes. Here's what you can expect with water damage cleanup:
First, we remove all the water from the commercial property. We cannot state enough how important the initial drying process is.
We look for additional pockets of water and moisture that could be lurking behind the walls or under the floorboards to ensure your home is completely dry.
Dry the floors, carpeting, walls, wood furniture, and structures inside the building. Many times that involves bringing in industrial fans and other state-of-the-art equipment to help with the drying process.
Dehumidifiers will help remove moisture from the air and space.
The restoration team will monitor the progress daily until your property is 100% dry. When it comes to water damage the first 72 hours are critical. We partner with you during this critical time to limit the damage.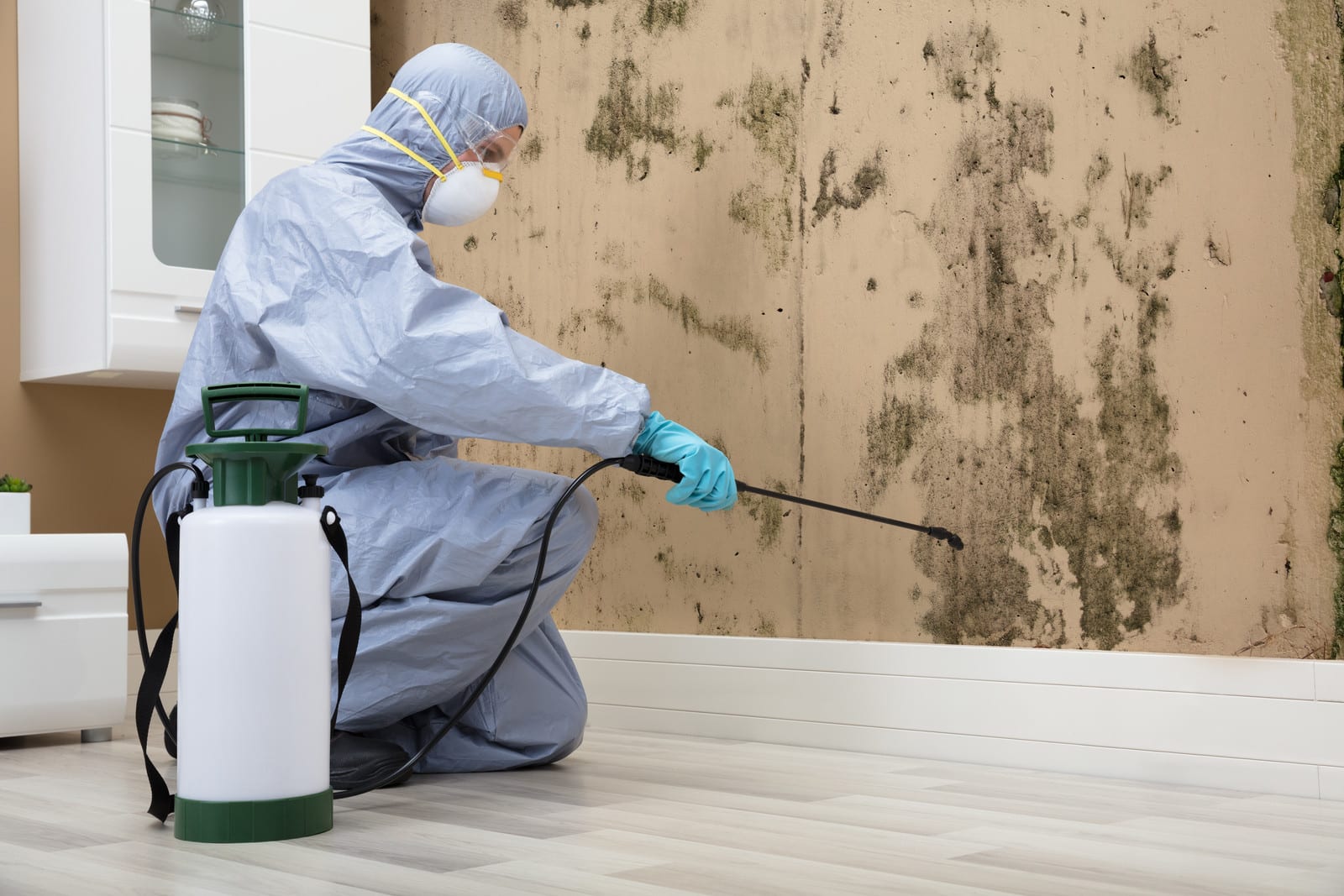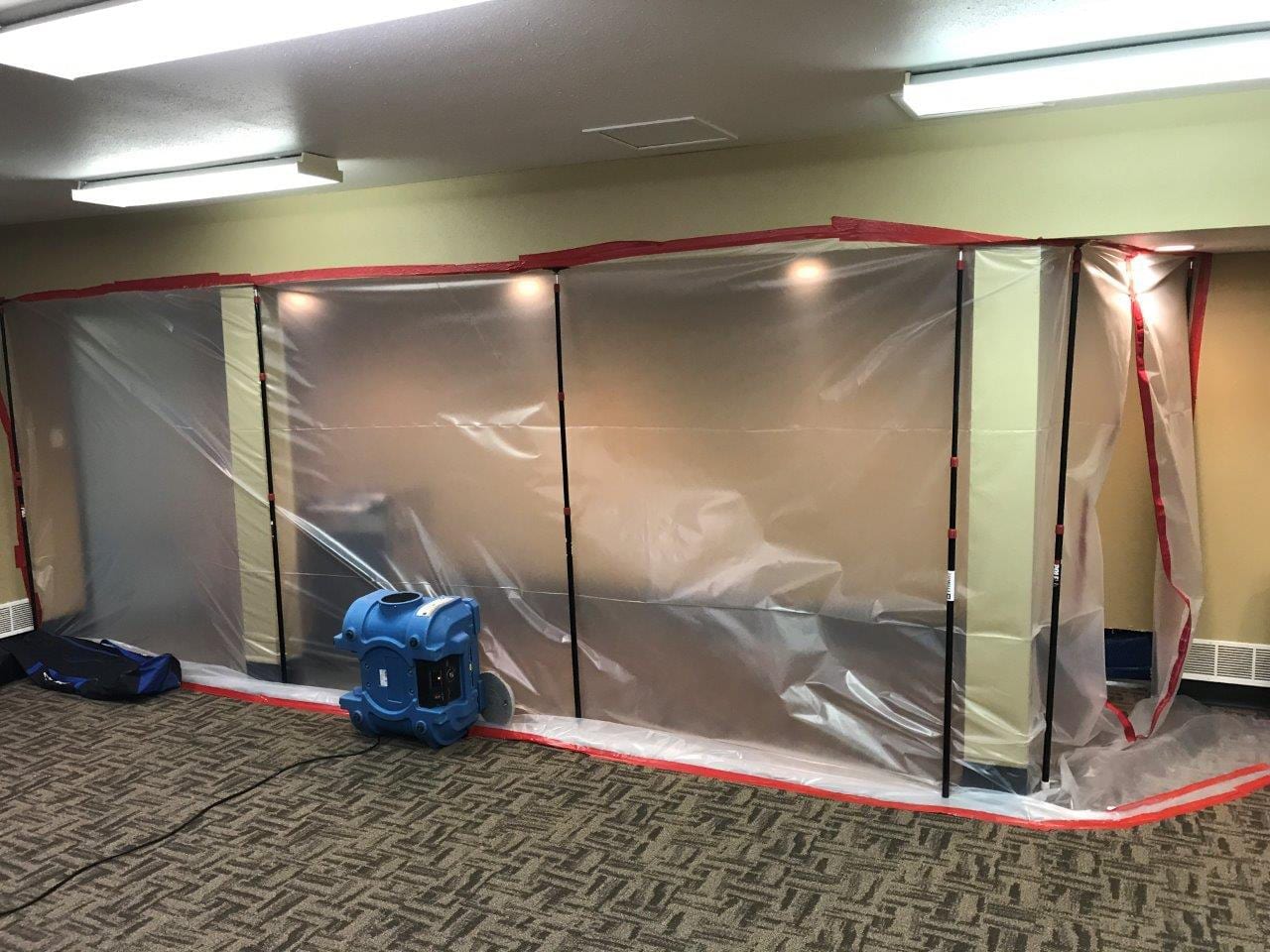 Fire Damage Cleanup
Fire damage is another of the worst disasters that can strike your property. A fast-moving fire can burn a building to the ground in less than an hour. Even a slow-moving fire, that leaves the space mostly intact can smoke damage and requires professional help to recover your property to its original state. Fire damage, smoke damage, and odor are the three major sources of damage after a fire.
Smoke damage comes in several different categories, including:
Wet smoke residue - A low-temperature fire creates this type of residue. Due to the stickiness, this type of residue requires a special cleaning process.
Dry smoke residue - This is the ash you see in your space after a high-temperature fire. You need to stop its spread and remove it to rid the space of the pungent odor.
Protein residue - If your commercial space houses food or a restaurant, you get protein residue after a fire from the burning food products and fats. This residue can cause further damage to paint and stain if not immediately removed.
Fuel oil soot - When a boiler or furnace misfires, it pushes this soot back into your commercial space.
Other residues - The chemicals that firefighters and extinguishers use make up the final major category.
Storm Damage
Mother Nature can really show her wrath with a major storm, and these storms can cause significant damage to your commercial property. From fallen trees branches on roofs to hail the size of golf balls that shatter windows, the damage to your property can require immediate attention to lessen the financial damage. We arrive on the scene with tarps and boards to start cleaning up the damage. We clean-up the debris quickly and assess the damage while blocking the entry of additional rain, sleet, and hail.
Mold Removal and Abatement
Mold is so much more than the dark stains in the grout of a shower. Some types of mold are actually deadly to humans and almost all types of mold can spread quickly, especially in a damp environment. Mold can also lower the air quality in your building, making it harder for your tenants, employees, and customers to breathe. Here are some things to expect when dealing with a possible mold infestation:
As part of the mold removal process, we follow the trail of the mold back to the original source. In this way, we not only remove the mold but correct the problem allowing a clean, mold-free environment to flourish.
To truly fix the problem, we need to figure out where the mold originated from, which often means the service technician inspects your pipes and faucets for leaks and looks for cracks in exterior walls to find out how mold is getting into the building
We use state-of-the-art moisture meters to detect possible pockets of mildew and mold.
Sewage Removal and Cleanup
There really isn't a whole lot that smells worse than a sewage backup. When you have a sewage backup issue or broken pipe, 24-7 Restoration will remove the sewage and help restore your property to its original condition. You want to seek help immediately to keep the smell from saturating the floors and walls.
Extended Service Area for Commercial Restoration in the Longmont, Colorado
At 24-7 Restoration, we take pride in partnering with our friends and neighbors to restore their commercial properties after disaster strikes. Our service area includes all of Boulder County, Frederick, Firestone, Lafayette, Louisville, Loveland, Berthoud, Mead, Lyons and more.
If you don't see your community, call our office to see how we can help you.
Reasons to Choose Us as Your Commercial Restoration Company in Longmont, Colorado
24-7 Restoration knows that you want only the best when finding a partner for your Longmont, CO commercial property. We strive to provide the best commercial restoration service possible for our clients and pride ourselves on our customer-oriented approach.
A certified technician answers all phone calls
Our team works with both homeowners and business owners
We are a full-service company from clean-up to repair to remodeling
Our team will do everything we can to work with your insurance company
24-7 Restoration is locally-owned and operated
Our commercial restoration technicians are ready to go to work for you and cleaning up the mess after disaster strikes. Let us help to make this stressful situation a bit easier and get your Longmont, CO commercial property back to working order as quickly as possible. Contact us today.