Providing The Best Emergency Restoration Services In The Front Range Area
At 24-7 Restoration, we're inspired by the beauty of our surroundings - both natural and manmade. We also know how important strong homes and properties are to keeping our communities thriving and progressing, and we want to make sure we do our part in helping maintain them. That's why we provide the highest quality emergency restoration services to those who need them. Like you, we are also homeowners, and will treat your property with the respect with which we would like our own to be treated.
We believe in being an active part of the cities that we call home. We also believe that it's important to affiliate with professional organizations in our line of work that can help us continue to learn and grow. To us, it's all about continuing to serve you better by making sure our emergency restoration services are always the best they can be. 24-7 Restoration maintains an active membership with the following organizations and groups: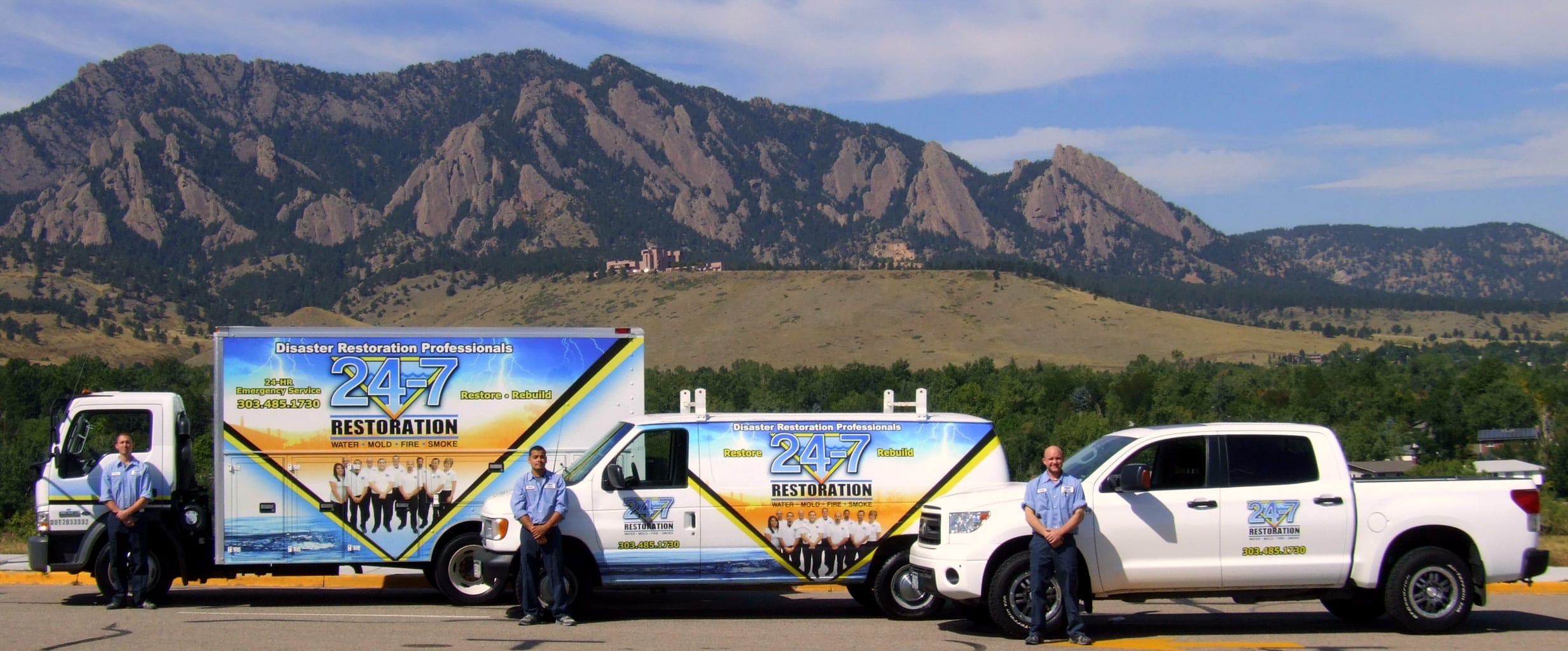 Emergency Restoration Services -  Certifications & Education
At 24-7 Restoration, we care about our clients and their properties, and strive to be the best in the industry. One of the ways we accomplish that goal is by continually improving our services. Technology is always evolving and changing for the better, so we have to stay up to date with the latest and greatest innovations as they happen. We also understand that our people are our greatest resource, and our technicians regularly attend trainings and seminars so that they are well educated. Additionally, we strictly follow all IICRC processes for restoration and cleanup and strive to meet or exceed their standards on every restoration we do.
In addition to investing in the latest technology and training for our employees, we also value your opinion. We strive to exceed your expectations, and we value your feedback on our emergency restoration services, customer service, timeliness, and responsiveness. All of these contribute to our company mission, which is to be your trusted restoration contractor when you need us.
Meet Our Owner
Michael Richardson  ~ President/ General Manager / Owner
Michael Richardson is a Colorado Front Range resident who loves the communities in which he lives and works. He started 24-7 Restoration to be a reliable, hardworking, trustworthy emergency restoration service. Plenty of businesses and families have been hit by unexpected disasters in their home - from flooding to fire to sewage backup and everything in between. Michael and his team want to help all those who are struggling with emergencies so that they can get their lives back to normal as soon as possible.
It's important to Michael to keep up with industry advancements. He's a Journeyman Water Restorer and Water Damage Restoration Technician at both the Institute of Inspection Cleaning and Restoration Certification (IICRC) and the American Drying Institute (ADI). He's also certified in Applied Structural Drying with both the IICRC and ADI, as well as a General Asbestos Contractor approved by the State of Colorado. The IICRC has also certified Michael as a Carpet Cleaning Technician as well as a Carpet Repair & Reinstallation Technician.