Get the Professional Assistance from an Experienced Restoration Company to Recover your Mead, CO Home or Business
Rapid Response and Thorough Processes Get Your Life Back On Track After a Disaster
Disasters come in all shapes and sizes, but they're never expected or convenient. When a disaster occurs that causes damage to your Mead, CO home or business, you need professional help for an effective resolution. Unexpected weather, structural breakdowns, or plumbing issues can cause severe damage to any structure. Yet, a sudden occurrence can leave you feeling helpless and unsure of how to remedy an emergency situation. Luckily, you don't have to face emergencies in Mead, CO alone. 
24-7 Restoration is a full-service restoration company serving both residential and commercial properties in Mead, CO, and the surrounding areas. With decades of experience, licensed experts, proven processes, and professional tools, we help local residents promptly and properly respond to disasters that can damage homes and commercial buildings. Our emergency team is always on call to provide a rapid response and instantly begin taking care of damage to your property. We arrive on-site within an hour of your call and immediately take steps to mitigate further damage to your building's structure and the items inside. Once the area is stable, we begin the recovery process. Whether you're facing the effects of water, smoke, mold, sewage, or some unpleasant situation you never could have imagined, we have the tools and experience to remedy the situation.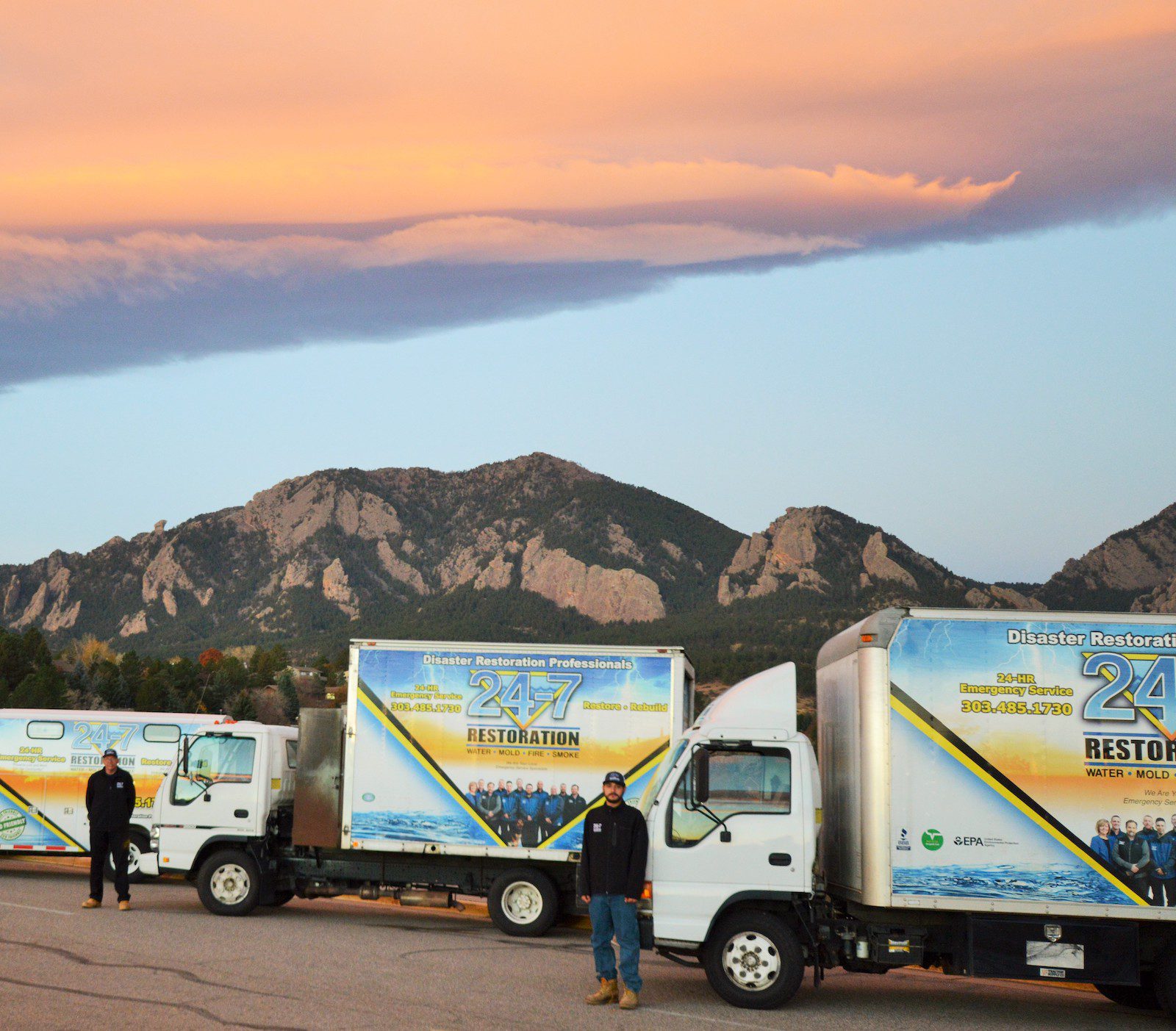 Unfortunately, property owners often fail to recognize that many disasters cause damage beneath the surface. When cleanup fails to address these issues, dangers lurk that can result in health problems or long-term structural damage. At 24-7 Restoration, all of our team members have the licensing and experience to recognize potential dangers and ensure they're eliminated, so you can fully restore your home or building to its original condition. We even have restoration professionals available to tackle the job of completely restoring your property if you choose to work with us for your entire project. 
If you're facing an unexpected disaster at your Mead, CO home or business, you don't have to shoulder the burden alone. Our restoration company is ready to stay by your side through every step of the restoration process and provide you with professional results to get your property back to its original pristine condition.
A Full Line of Services to Tackle Every Emergency
Most people think of disasters and emergencies as massive events like major hurricanes or floods. While these events do cause considerable damage, many homes and businesses are equally affected by something as simple as a burst pipe or clogged sewer system. Whether you're facing weather damage, sewer issues, fire damage, or some unsightly mess you could never have imagined, our experienced team can help. Whatever you're facing at your Firestone home or business, we've probably seen it before. If we haven't, we're ready to stand up to a challenge. 24-7 Restoration performs these commercial and residential restoration services.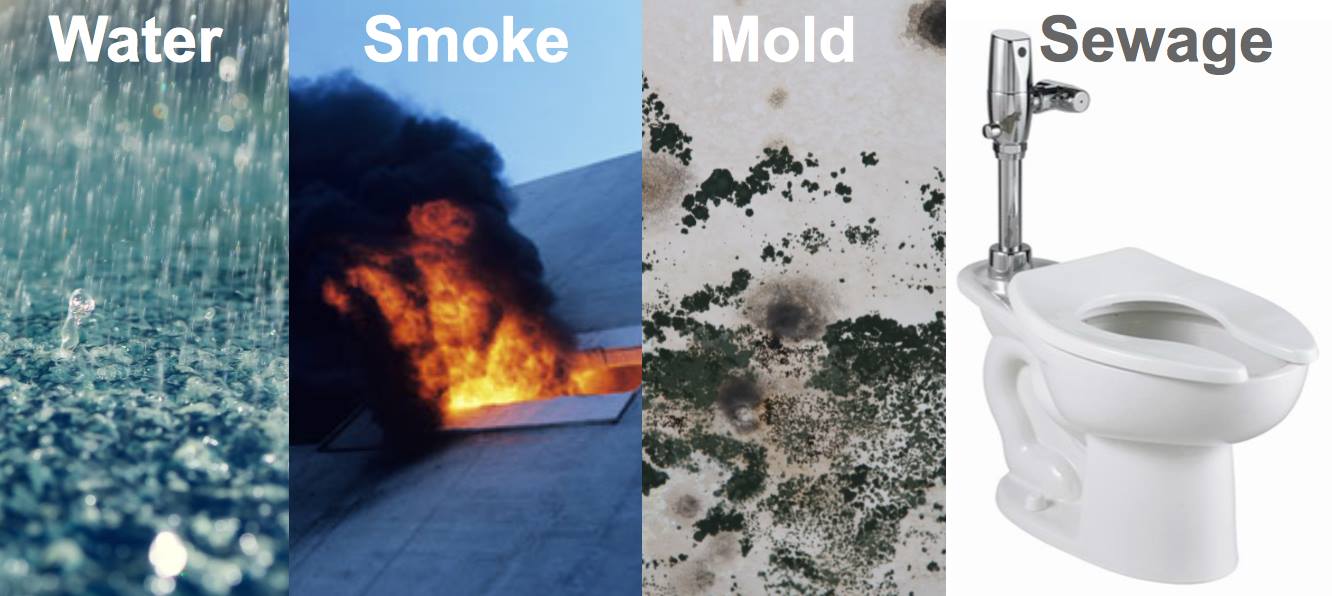 Whether your water pipe burst at 3 AM, you opened your business to find sewer backup, or inclement weather invaded your home or business, water can cause major damage to your home or business. Our water damage restoration process begins by eliminating the source of the water and determining the dangers you face. We have a variety of water damage restoration services designed to clear away the dangers of polluted water from outdoor flooding or sewage, or clean water from plumbing issues.
Our team is prepared to extract the water and dry out your building. With specialized tools designed to remove water from carpets, padding, and hardwood floors, we're prepared to completely remove all moisture from your building in an efficient manner, so you can get back on track. After removing the water, moisture, and mold threat, we can offer our rebuild services that completely repair and restore your building to its original condition.
We provide professional mold testing and complete mold removal services to make your home or building safe again. If professional mold testing reveals a problem, we discuss your options for safe removal before moving forward. Our mold removal service begins with isolation so mold spores can't travel throughout your home or building. We follow by removing materials that hide mold and use a variety of methods to completely eradicate the mold. HEPA vacuums and fungicides are used to completely clean the area. After a follow-up test reveals mold is gone, we seal affected surfaces and you can hire us to completely restore the area.
Surviving a fire is devastating. Taking care of the damage left behind is a difficult job to face. Our fire restoration process begins with thorough documentation of the damage. We remove or protect your possessions from continued threats of smoke, water, and mold damage. After cataloging and moving your possessions to secure storage, we can begin the repair and restoration process.
Raw sewage in your home or workplace isn't just gross, it's dangerous. While damage from your backed-up sewer often resembled flood damage, it's much more dangerous and requires very specific cleaning methods. Our team handles sewage cleanup with these methods.
We contain affected areas and place them under negative pressure with HEPA air scrubbers.

Raw sewage is extracted.

Porous materials are removed.

The area is completely sanitized.

We also offer services to replace and reinstall damaged materials for a complete restoration.
Other Disasters
It's common for older homes and businesses to face issues with aging building materials like asbestos. Some disasters in homes and businesses are caused by animals and others by people. While we wish Colorado was completely crime-free, it isn't, and our team takes care of those disasters too. We clean crime scenes with the same care we use when repairing any other disaster. No matter what you're facing, we'll respond to your call for help to clean away your damages, offering our rebuild services so your home or business can look like the damage never occurred.
Professional Processes Ensure Your Restoration Project is Complete Right the First Time
24-7 Restoration isn't your average restoration company - you can see the difference in our name alone! Most other companies in our line of work will clean up the damage, and even do a good job at it. But in the end, you'll still have to hire a second contractor to rebuild what you've lost. That's not the case with us!
We're a true restoration contractor who will not only clean up the damage, but we also offer services to repair and rebuild floors, walls, ceilings, paint, and anything else you may need to make your property as good as new. Our professionals will take care of you from start to finish with top-of-the-line customer service, an unbeatable work ethic, and great communication throughout the project. We can handle water and flood damage, mold removal, storm and hail damage, fire and smoke damage, sewer damage cleanup, and more for both commercial and residential properties.
We know that disaster can strike at any time, which is why we have a technician available 24-7 to answer your call. Whether it's a toppled tree on your roof during 3 AM thunderstorm, a surprise flood during your lunch break, sudden fire damage, or anything in between, you can call us at any time for the professional, human help you need. Our team will be there within 60 minutes for emergencies within our service area.
Recover Your Mead, CO Property with Professional Services Provided by an Experienced Restoration Company
When a disaster occurs, you need help and you need it fast. More importantly, you need a team with the knowledge and professional tools to fully eliminate the damage and make your property safe again. It's our goal to provide residents and business owners in Mead, CO, and the surrounding areas with prompt and professional services that ease the burdens that come with disaster recovery and fully eliminate dangers so they don't reappear. 
24-7 Restoration is a full-service, start-to-finish restoration company in Mead, CO. From flooded basements to mold cleanup, to fire damage restoration & beyond, we make it seem like a disaster never even occurred! If you're facing a disaster in your home or business, make your first call the right one. We do clean up right the first time and even offer full restoration services for clients who prefer to work with us for the duration of the project. A disaster is not something you should face alone. Our supportive and professional team is ready to help.
Our Customers Appreciate Our Attentive Response