Colorado Insurance Claims Survival Guide
If your home or business experiences a broken pipe, sewage backup, fire, or other emergencies, 24-7 Restoration is here to help you get back on your feet. We handle immediate cleanup needs at any time of day or night, and we will work with you and your insurance company to plan and execute any further cleaning, rebuilding, and other restoration services that are needed.
How Do Insurance Claims Work? 
Obtaining your insurance coverage following any type of emergency begins with filing an insurance claim. This written request informs your insurance company of what happened, what restoration services are needed, and how much the restoration company you are working with expects the project to cost. Your insurance company will then validate your claim and provide you with the appropriate funds. In Colorado, insurance companies are required to allow you to choose any restoration company you want, and we work with all insurance providers. You can begin filing your claim directly from our website if you are using one of our most popular providers.
Choose 24-7 Restoration for the Best Restoration Services in Colorado
At 24-7 Restoration, we know that property emergencies can happen at any time of day or night, and we are always available to help with a variety of situations. From handling immediate needs to prevent further damage to repairing and rebuilding your home or business, our wide range of services make us a top choice for customers throughout Longmont, Boulder, and surrounding cities.
Our Restoration Process Is Quick and Convenient
We know that acting quickly is the most important step we can take to help our clients preserve as much of their homes and businesses as possible following any type of emergency. That's why we're committed to having a crew of our skilled team members at your residence or business within an hour of speaking to you on the phone at any time of day or night. We won't make you wait to hear back from your insurance company before handling immediate needs to prevent further damage. If your building experiences water, sewer, or fire damage or you find mold or asbestos, we are always here to help.
Restoration Services We Offer
Our team members are trained to handle a wide variety of types of property damage. Each category of restoration services begins by assessing the level of damage your home or business has experienced to determine the most appropriate next steps to take. No matter what type of emergency you experience, our restoration process involves dealing with the immediate threat and cleaning up your building and making repairs as needed.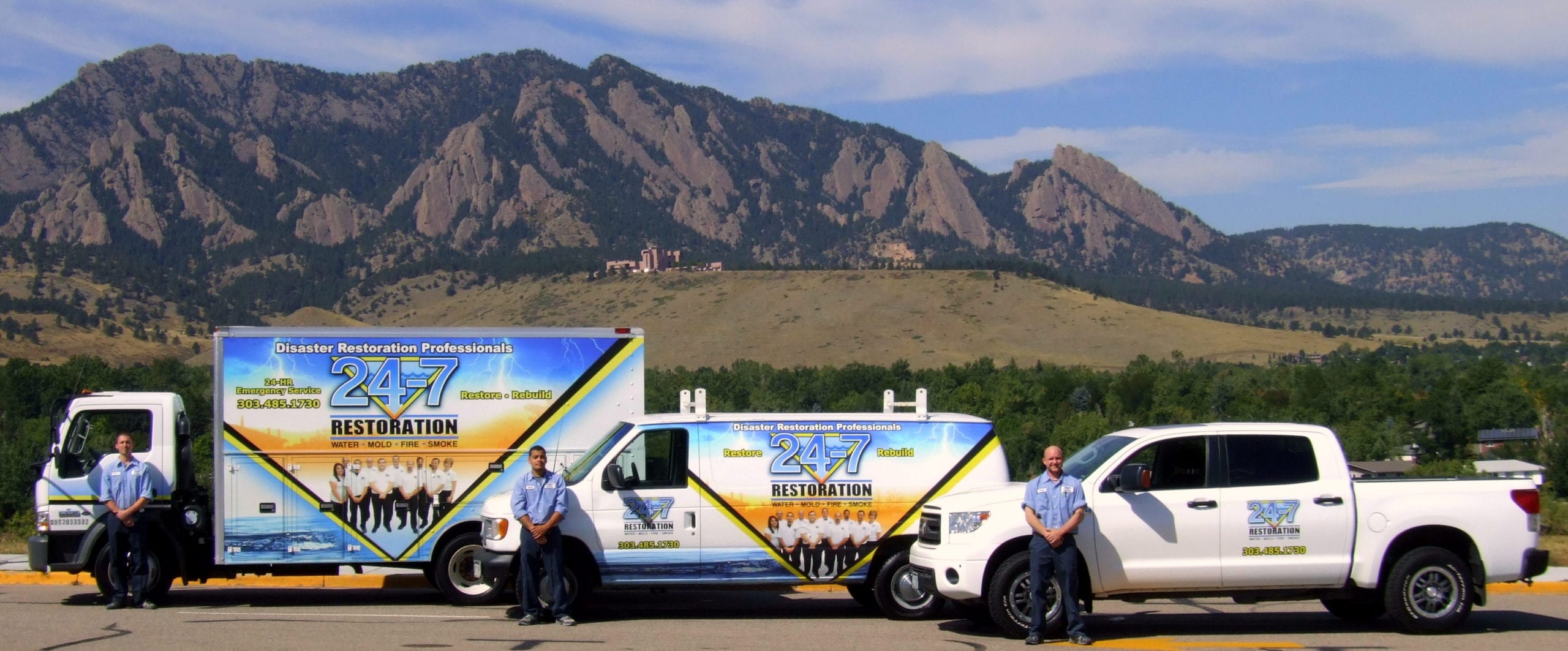 We Work With Your Insurance Company to Meet Your Needs
At 24-7 Restoration, we understand that spending hours or days dealing with your insurance company before any work can be done does nothing to help your home or business. Because many building emergencies need to be handled immediately to prevent further damage, we begin work within an hour of receiving most calls. During each restoration project, we make detailed reports of the condition of your building, the work that we do, and the equipment we use, which we send to your insurance company after the restoration process is complete. We also work closely with our clients to keep you in the loop about what we are doing and provide an estimate of what to expect from your insurance company.
What Sets 24-7 Restoration Apart From Similar Companies
Choosing 24-7 Restoration instead of a similar company gives you peace of mind as you explore your options for restoring your home or business. We respond as soon as we get a call, and we'll never leave you hanging before we complete preliminary work. We handle the cleanup and restoration process at your convenience, and you usually will not need to leave your home while we are working. We are also committed to using eco-friendly products and giving back to various local and national humanitarian organizations. Visit our website to read testimonials from our satisfied customers to see why we're the Boulder area's go-to restoration company!
Dealing with a building emergency is disruptive, but it doesn't have to be a nightmare. We are always here to help residents in Longmont, Boulder, and surrounding areas as soon as we are needed, and we will work closely with you to make your restoration process as smooth as we can and do it right the first time. Contact us today to learn more about the services we offer or give us a call at 303-485-1730 for immediate assistance!