Boulder, Colorado Restoration Services Insurance Guide
Your Insurance Claims Survival Guide
If your Boulder, Colorado home or business experiences a broken pipe, sewage backup, fire, or other emergencies, 24-7 Restoration is here to help you get back on your feet. We don't experience these situations much (hopefully!) in our day-to-day lives, so the whole process can be very unfamiliar. We handle immediate cleanup needs at any time of day or night, and we will work with you and your insurance company to plan and execute any further cleaning, rebuilding, and other restoration services that are needed. Below are some commonly asked questions and tips to help guide you through the process of restoration services insurance.
How Do Insurance Claims Work? 
Obtaining your restoration services insurance coverage following any type of emergency begins with filing an insurance claim. This written request informs your insurance company of what happened, what restoration services are needed, and how much the restoration company you are working with expects the project to cost. Your insurance company will then validate your claim and provide you with the appropriate funds. In Colorado, insurance companies are required to allow you to choose any restoration company you want, and we work with all insurance providers. You can begin filing your claim directly from our website if you are using one of our most popular providers.
Preferred Vendors?
Knowing your rights is critical: Upon contacting your insurance company to report the flood, fire, mold, hail, damage etc. you may be directed to a preferred vendor to address the issues you are facing. Do you have to use the insurance company's preferred vendor? No! Stop! You have the choice to decide what contractor you will trust to handle your emergency restoration in your home. It may not be in your best interest to work with the insurance companies preferred vendor. Consider a neutral and independent company (like 24-7 Restoration) that has your best interest in mind.
Stay Involved
The restoration process always goes more smoothly when the client (insured) stays involved in the process. 24-7 Restoration will do everything in our ability to navigate this process with your insurance company but ultimately you are the insurance company's client and it's the insurance company's job to keep your needs in mind, not necessarily the Restoration contractor's needs (ours). Helpful tips:
Stay in regular contact with your insurance adjuster to make sure your claim is receiving the attention it should.
Insist that you want your restoration project completed in a timely manner and without unnecessary delays.
Ask for a detailed outline of payments being issued and what they are related to.
Insist that communications be in writing such as an email so that you have a record of all correspondence.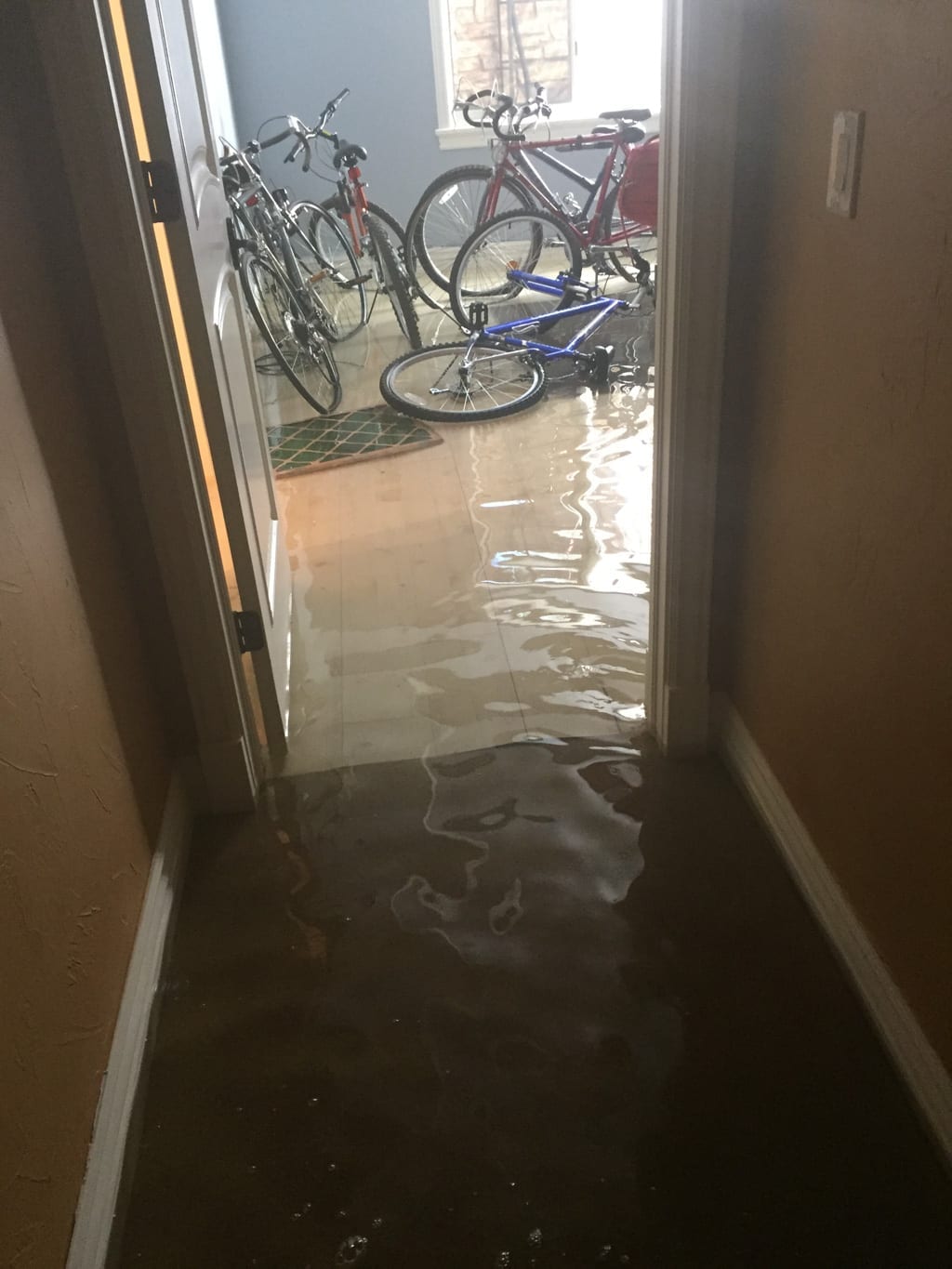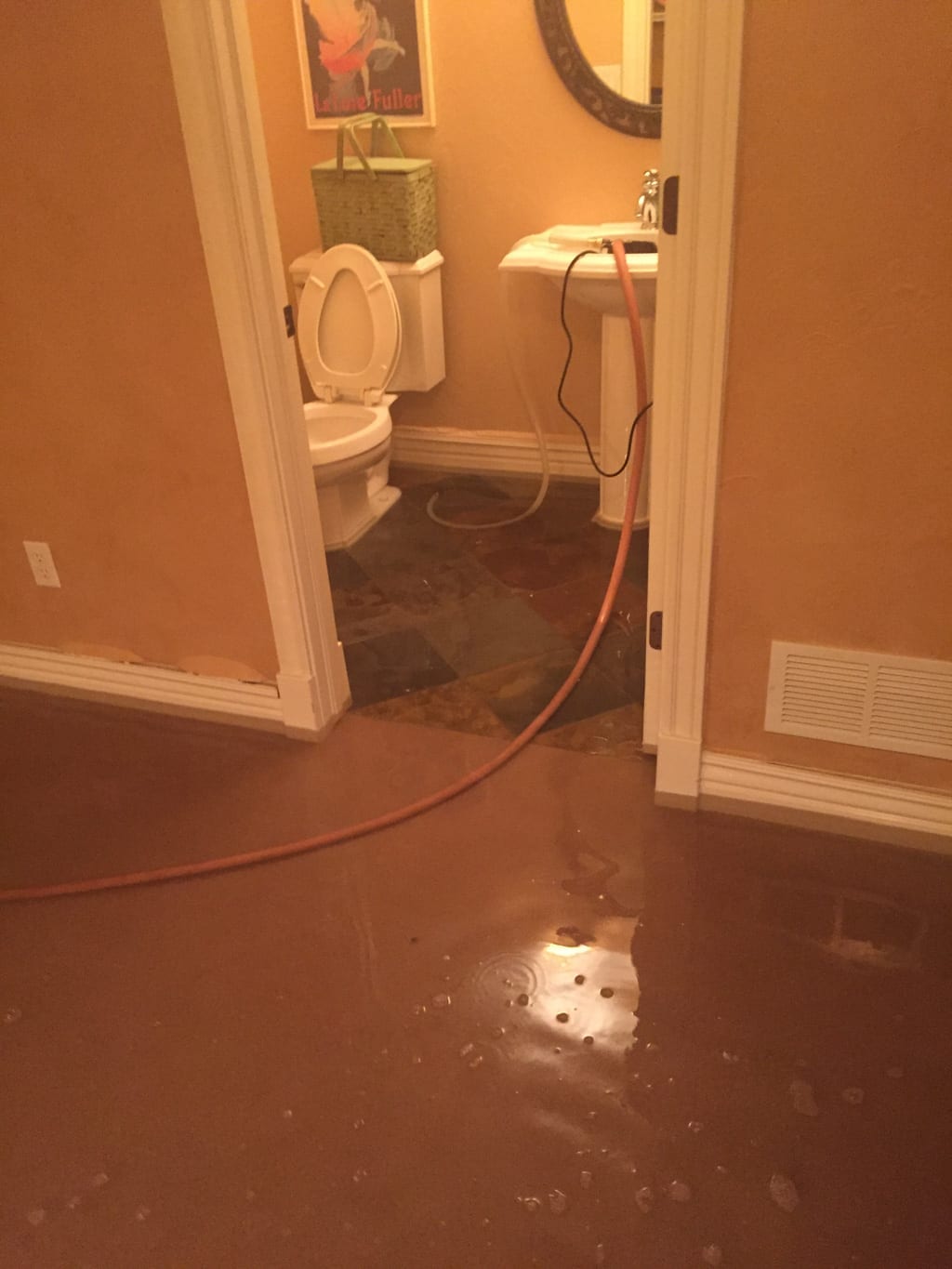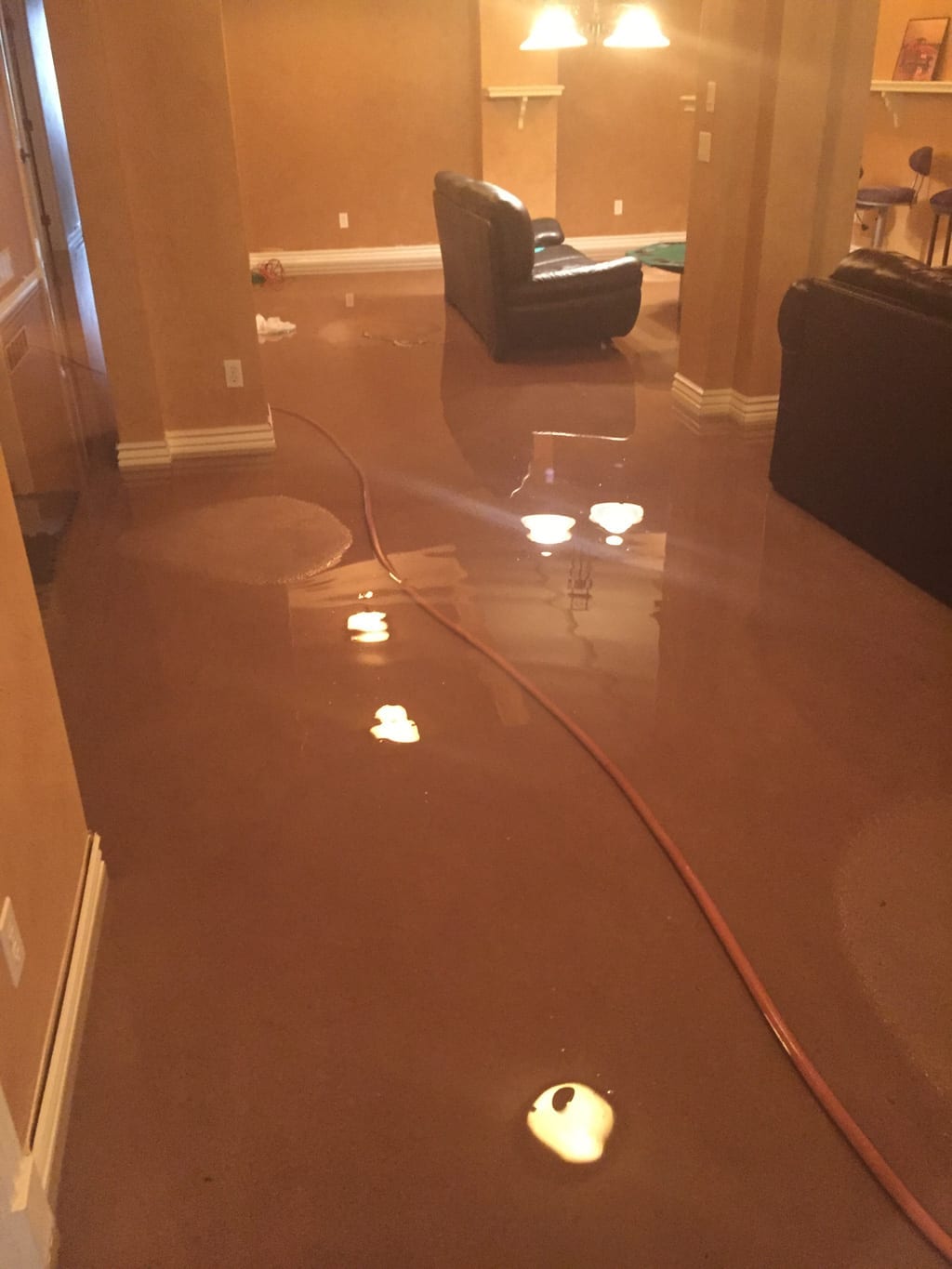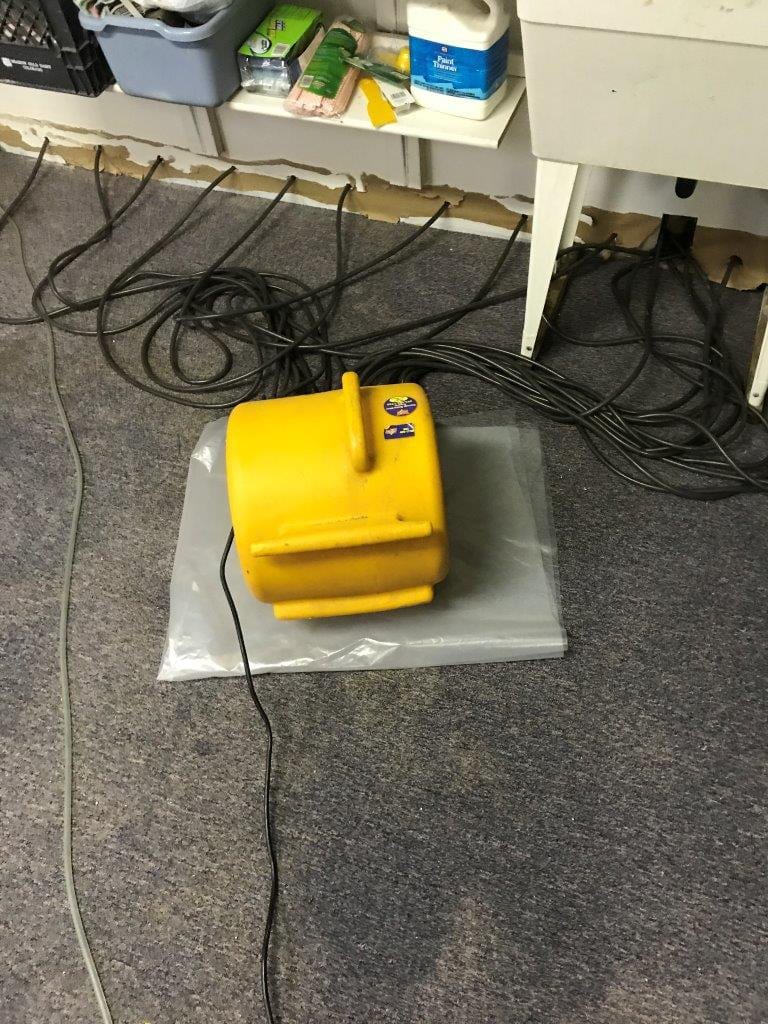 Mitigation vs. Reconstruction
The whole restoration process involves 2 separate phases: The Mitigation phase (drying and preventing additional damage) and The Reconstruction phase (rebuilding your property from the damages incurred during the initial loss and mitigation phase). These different phases differ in how they are presented to insurance for payment. The Mitigation phase is (for the most part) considered an emergency and that work is done (mostly) without pre-approval from insurance. The Mitigation phase is thoroughly documented and the method's/protocols are specific and regulated (by the IICRC – which 24-7 Restoration is a certified firm with). The Reconstruction phase is different. Insurance companies request that The Reconstruction phase be estimated ahead of time and approved before work starts. "Who is going to fix my house back to the way it was prior to our loss?" Just as you are the ultimate decision-maker in which Restoration Company will handle your mitigation work, you also get to choose what reconstruction contractor you want to have working in your home. Under no circumstances are you required to work with an insurance company preferred vendor. Fortunately for you, 24-7 Restoration has in-house reconstruction managers who are familiar with how to get your home restored to pre-loss condition, or better! 24-7 Restoration provides you with Reconstruction services that will estimate the repairs needed to restore your home, and work with your insurance company (and you) to have that estimate quickly approved prior to beginning any work. This helps avoid incurring any out-of-pocket expenses that your insurance company might refuse to cover.
Pricing
Mitigation and Restoration work is a very specialized industry. Companies such as 24-7 Restoration are held to strict guidelines put in place by the IICRC (Institute of Inspection Cleaning and Restoration Certification) as to how water losses should be handled. Additionally, the pricing related to these services has been pre-approved in accordance with the insurance industry. An estimating software program (Xactimate) is used both by the insurance industry as well as restoration companies to determine the cost of restoration services. 24-7 Restoration understands both the regulations of how water losses should be handled and uses this pricing software (Xactimate), the combination of which smooths out invoicing with your insurance company. There will typically be some back and forth between the insurance company and 24-7 Restoration during the invoice review process. This is normal procedure and simply part of the insurance company's making sure policy-holders aren't being billed for work that wasn't done or wasn't needed. 24-7 Restoration's familiarity with the IICRC standards and regulations, and our careful documentation are critical during this process.
Supplemental Claims
On occasion, an unforeseen issue may arise in the repair phase. Not to worry! It is not unusual to issue a supplement to the claim to the insurance in this event. Insurance adjusters are familiar with this practice and generally will see that the appropriate allowance is issued so long as it is determined to be associated with the original claim. For example; There is heavy staining in the carpet from the water intrusion. The technicians did their best to clean the carpets and remove the staining but were unsuccessful. It is now time to issue a "supplement" to the claim for carpet replacement.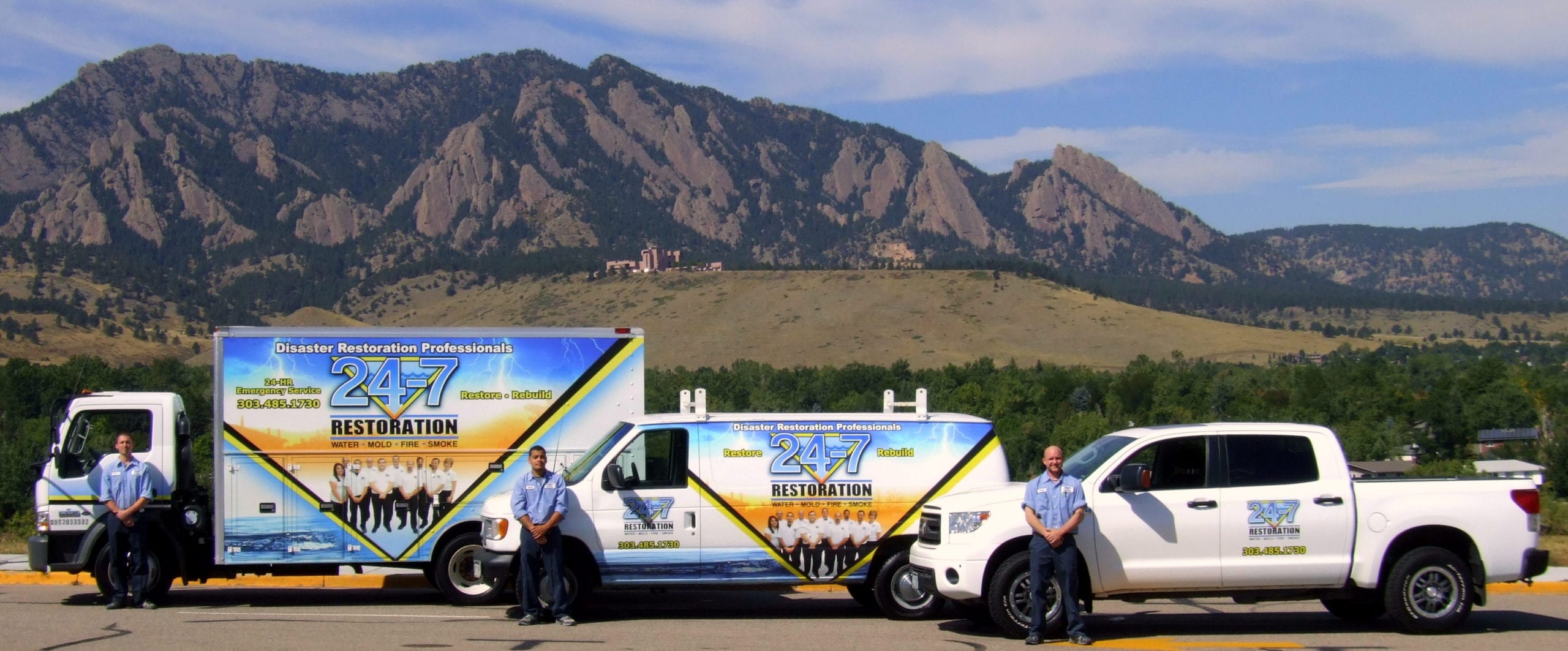 Choose 24-7 Restoration for the Best Restoration Services in Colorado
At 24-7 Restoration, we know that property emergencies can happen at any time of day or night, and we are always available to help with a variety of situations. From handling immediate needs to prevent further damage to repairing and rebuilding your home or business, our wide range of services make us a top choice for customers throughout Longmont, Boulder, and surrounding cities.
Our Restoration Process Is Quick and Convenient
We know that acting quickly is the most important step we can take to help our clients preserve as much of their homes and businesses as possible following any type of emergency. That's why we're committed to having a crew of our skilled team members at your residence or business within an hour of speaking to you on the phone at any time of day or night. We won't make you wait to hear back from your insurance company before handling immediate needs to prevent further damage. If your building experiences water, sewer, or fire damage or you find mold or asbestos, we are always here to help.
Restoration Services We Offer
Our team members are trained to handle a wide variety of types of property damage. Each category of restoration services begins by assessing the level of damage your home or business has experienced to determine the most appropriate next steps to take. No matter what type of emergency you experience, our restoration process involves dealing with the immediate threat and cleaning up your building, and making repairs as needed.
We Work With Your Insurance Company to Meet Your Needs
At 24-7 Restoration, we understand that spending hours or days dealing with your insurance company before any work can be done does nothing to help your home or business. Because many building emergencies need to be handled immediately to prevent further damage, we begin work within an hour of receiving most calls. During each restoration project, we make detailed reports of the condition of your building, the work that we do, and the equipment we use, which we send to your insurance company after the restoration process is complete. We also work closely with our clients to keep you in the loop about what we are doing and provide an estimate of what to expect from your insurance company.
What Sets 24-7 Restoration Apart From Similar Companies
Choosing 24-7 Restoration instead of a similar company gives you peace of mind as you explore your options for restoring your home or business. We respond as soon as we get a call, and we'll never leave you hanging before we complete preliminary work. We handle the cleanup and restoration process at your convenience, and you usually will not need to leave your home while we are working. We are also committed to using eco-friendly products and giving back to various local and national humanitarian organizations. Visit our website to read testimonials from our satisfied customers to see why we're the Boulder area's go-to restoration company!
Dealing with a building emergency is disruptive, but it doesn't have to be a nightmare. We are always here to help residents in Longmont, Boulder, and surrounding areas as soon as we are needed, and we will work closely with you to make your restoration process as smooth as we can and do it right the first time. Contact us today to learn more about the services we offer or give us a call at 303-485-1730 for immediate assistance!