Looking for Professional Restoration Services in Gunbarrel, CO?
Your Dependable Full-Service Commercial and Residential Restoration Company in Gunbarrel, Colorado
When an emergency strikes your Gunbarrel, Colorado home or business, you might feel like you've been struck from behind when no one's around to help. Emergencies occur swiftly, when you least expect it, and they happen to everyone. Getting help immediately is the best way to get things under control. If you're facing an emergency at your Gunbarrel home or business, don't face it alone. The experts at 24-7 Restoration can help.
24-7 Restoration is a full-service restoration company that serves both residential and commercial properties in Gunbarrel, Colorado, and the surrounding areas. Our emergency team responds promptly to your call, day or night, and gets your disaster under control. We begin by taking immediate action to prevent more damage. Then we clean up the mess and completely restore your home or business to its original condition or even better.
The 24-7 Restoration Team is Prepared to Tackle Any Disaster
Most people think of disasters and emergencies as massive events like major hurricanes or floods. While these events do cause considerable damage, many homes and businesses are equally affected by something as simple as a burst pipe or clogged sewer system. Whether you're facing weather damage, sewer issues, fire damage, or some unsightly mess you could never have imagined, our experienced team can help. Whatever you're facing at your Gunbarrel home or business, we've probably seen it before. If we haven't, we're ready to stand up to a challenge. 24-7 Restoration performs these commercial and residential restoration services.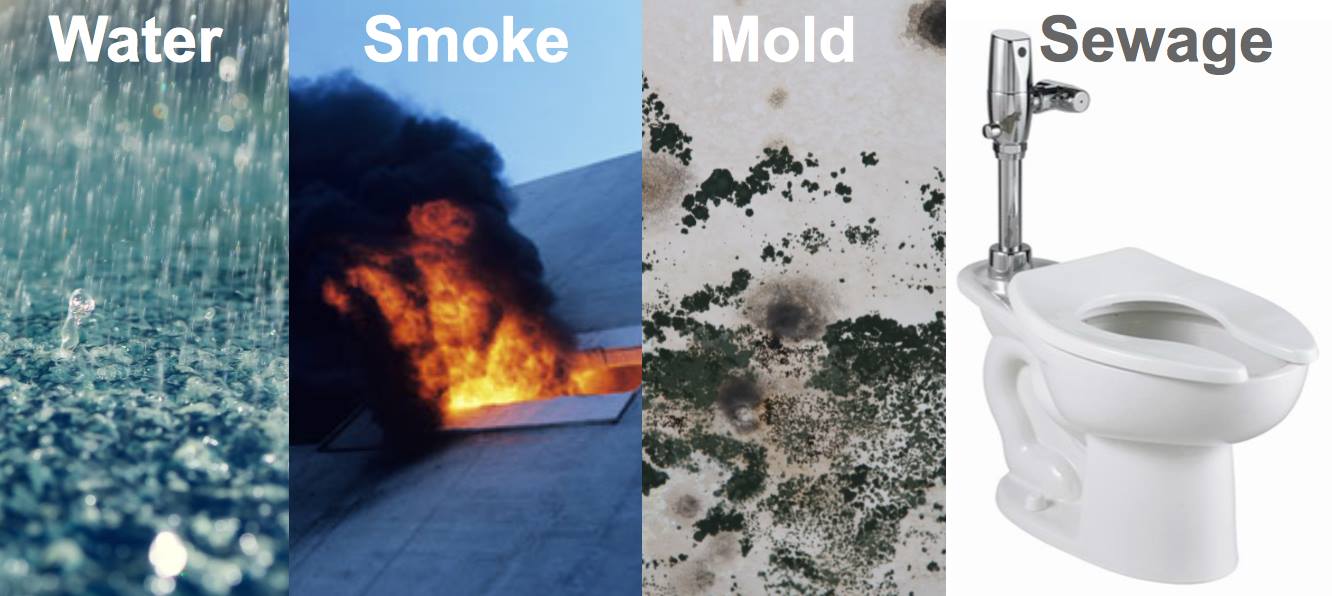 Flood Cleanup and Water Damage Restoration
Whether your water pipe burst at 3 AM, you opened your business to find sewer backup, or inclement weather invaded your home or business, water can cause major damage to your home or business. Our water damage restoration process begins by eliminating the source of the water and determining the dangers you face. We have a variety of water damage restoration services designed to clear away the dangers of polluted water from outdoor flooding or sewage, or clean water from plumbing issues.
Our team is prepared to extract the water and dry out your building. With specialized tools designed to remove water from carpets, padding, and hardwood floors, we're prepared to completely remove all moisture from your building in an efficient manner, so you can get back on track. After removing the water, moisture, and mold threat, we completely repair and restore your building to its original condition.
Mold Removal
We provide professional mold testing and complete mold removal services to make your home or building safe again. If professional mold testing reveals a problem, we discuss your options for safe removal before moving forward. Our mold removal service begins with isolation so mold spores can't travel throughout your home or building. We follow by removing materials that hide mold and use a variety of methods to completely eradicate the mold. HEPA vacuums and fungicides are used to completely clean the area. After a follow-up test reveals mold is gone, we seal affected surfaces and completely restore the area.
Fire and Smoke Cleanup
Surviving a fire is devastating. Taking care of the damage left behind is a difficult job to face. Our fire restoration process begins with thorough documentation of the damage. We remove or protect your possessions from continued threats of smoke, water, and mold damage. After cataloging and moving your possessions to secure storage, we begin the repair and restoration process.
Sewage Cleanup
Raw sewage in your home or workplace isn't just gross, it's dangerous. While damage from your backed-up sewer often resembled flood damage, it's much more dangerous and requires very specific cleaning methods. Our team handles sewage cleanup with these methods.
We contain affected areas and place them under negative pressure with HEPA air scrubbers.

Raw sewage is extracted.

Porous materials are removed.

The area is completely sanitized.

We replace and reinstall damaged materials for a complete restoration.
Other Disasters
It's common for older homes and businesses to face issues with aging building materials like asbestos. Some disasters in homes and businesses are caused by animals and others by people. While we wish Colorado was completely crime-free, it isn't, and our team takes care of those disasters too. We clean crime scenes with the same care we use when repairing any other disaster. No matter what you're facing, we'll respond to your call for help and clean away and repair your damages, so your home or business will look like the damage never occurred.
Full-Service Restoration for Your Completely Repaired Home or Business
There are many restoration companies in the Boulder area that can help you clean up a mess. Often, these companies can take care of water damage and mold, or other issues you're facing. Unfortunately, after the cleaning is complete, you'll likely need to call in another company to complete the repairs you need. When we say 24-7 Restoration is a full-service restoration company, we mean it. We don't just pick up the mess. We go the extra mile to repair your home or business so it appears the disaster never occurred. 
You can count on 24-7 Restoration to provide these benefits:
Prompt Response:

We arrive on-site to homes and businesses within our service area within the hour.

Proper Procedures:

We follow the Institute of Inspection, Cleaning, and Restoration Certification (IICRC) guidelines and procedures for every job.

Eco-Friendly Processes and Products:

Whenever possible our procedures use only biodegradable products and eco-friendly methods of cleanup and disposal.

Complete Restoration:

We're one of the only companies in the area that take care of complete cleanup and repair so your home or business is completely restored through one company.

Direct Insurance Billing:

We document damage as soon as we arrive and bill your insurance directly.

100% Customer Satisfaction:

Our job isn't complete until you're delighted with the results.
If you're facing an emergency at your Gunbarrel home or business, don't stand up to it alone. Make your first call the only call you'll need to make. Contact 24-7 Restoration anytime day or night, and we'll respond immediately to help you get things under control. Our team will be there with you from start to finish and provide professional results every step of the way.