Complete Smoke and Fire Damage Restoration
Services in Longmont, Colorado
No matter what size of fire you've faced, the effects of smoke and fire damage is devastating. Your home is your family's safe haven where you keep your most valuable and most sentimental possessions. Surviving a fire is a traumatic and overwhelming experience. Picking up the pieces afterward can seem just as difficult. Dealing with the aftermath of smoke and fire damage isn't something you and your family should face on your own. The professional team at 24-7 Restoration is here to help you pick up the pieces and make your Longmont, Colorado home or business as good as new.
Fire damage isn't all about financial losses, and we understand that. Our company is built on family values. We have a clear understanding of what you've lost and how to help you avoid further damage. The 24-7 Restoration team is prepared to respond to your emergency, day or night. We jump into action right away to take care of your building and possessions whether its your home, building or business.
How Smoke and Fire Continues to Damage Your Longmont, CO Home and Possessions
Large fires that destroy homes and buildings are tragic. However, even a moderately small fire can do serious damage to an entire building and the possessions inside. Dealing with the restoration of smoke and fire damage isn't a process you should try to attempt alone. Even after the fire's out, your building is still a danger zone, and the residual damage isn't complete.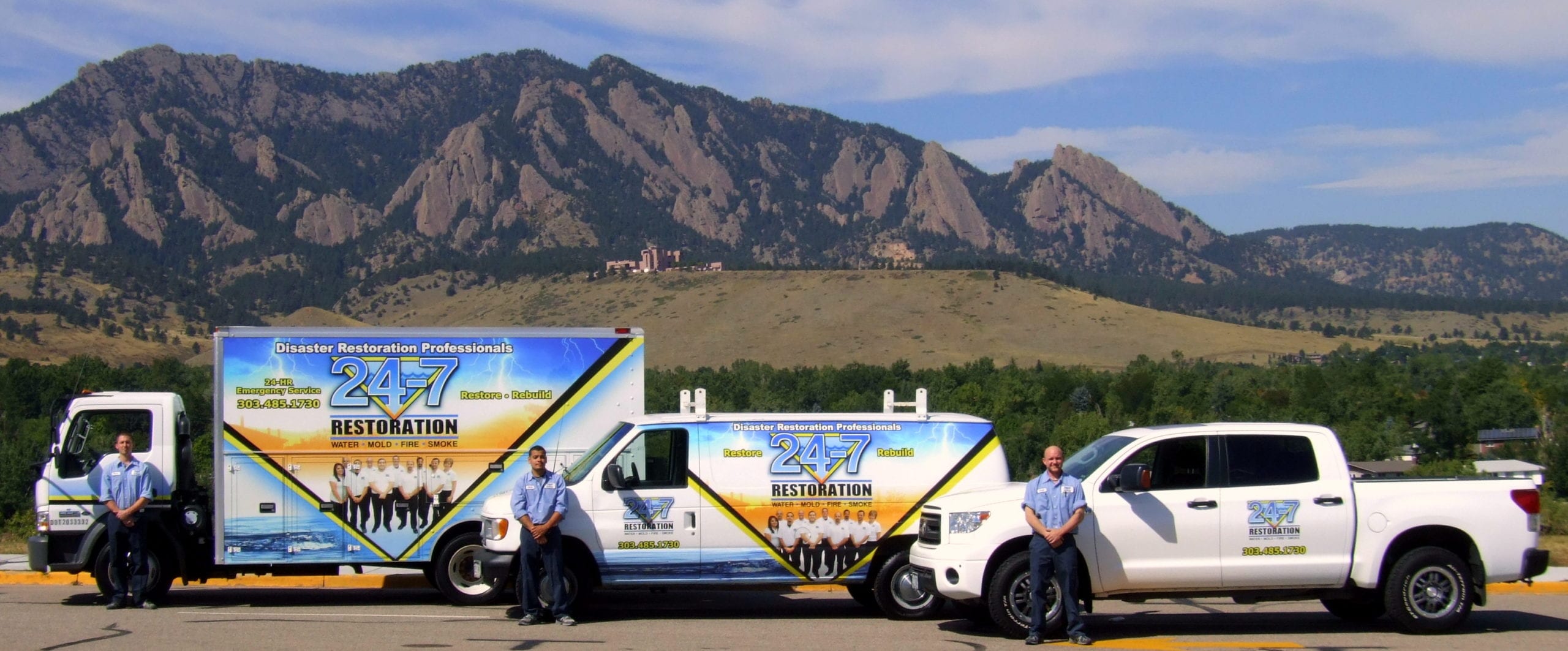 It's never safe to enter a building after a fire until officials have declared it safe. Unfortunately, even when the flames are out, your building and possessions are still being exposed to dangerous particles and gases from smoke and soot. Additionally, the water used to put out the fire leaves your property at instant risk for water damage and mold. Experienced professionals and professional equipment are required to properly remove these dangerous contaminants to avoid continued damage and return your property to normal.
The 24-7 Restoration Fire Damage Restoration Process
You've been through enough. The last thing you need is a drawn-out restoration process standing in the way of getting your life back to normal. Our goal is to completely restore your home or business and damaged possessions without causing any additional stress for you. We even work directly with your insurance company so your restoration is approved before we even start work. Our streamlined process is fast, thorough, and hassle-free.
Choose 24-7 Restoration for Complete Fire Damage Restoration Services Done Right the First Time
There are a variety of clean-up companies that will help you remove the destroyed matter from smoke or fire. Unfortunately, that leaves you with the task of hiring an additional company to take care of the actual repairs/rebuild. 24-7 Restoration is a full-service restoration company with the tools, expertise, and compassion to complete the entire job and leave your home or business as good as new. Here are just a few reasons you can count on 24-7 Restoration for your fire damage restoration project.
We get started right away. When you have an emergency, you don't have time to wait around. If we don't pick up the first time you call, we'll get back to you within 10-20 minutes. We'll have a service team at your property within the hour if you're in our service area.
We're professionals you can trust. Letting strangers into your home or business can be difficult. We treat your property with the respect you deserve as we return your property to a pristine state.
We work directly with your insurance company. We know that you don't need to deal with the hassles and red tape of insurance regulations. Instead of giving you another task, we contact your insurance company directly and get approval for your restoration before we begin the work.
Our hard work gets the job done. At the end of the day, nothing shows integrity like hard work. We get started right away and don't stop until the project is complete. We do each job the right way the first time, cutting costs for both you and us.
We take care of the environment too. Our products are designed to work effectively without harming the environment. We strive to use environmentally friendly processes and biodegradable products.
Our customer service is unmatched. We earn your trust with services that assist you. When our team is on your property, you're the boss. We treat you, your family, and your employees with respect. We always take your ideas and wishes into account. Our team communicates with you throughout the entire process, keeping you updated with the progress and results. Most importantly, we make sure you're always 100% satisfied with our work.
If your home or business has survived a fire, the last thing you want to do is wait for hours or days to get help. Make your first call the right call. 24-7 Restoration will respond quickly. Our Longmont, CO team gets to work immediately and we don't stop until the job is complete. Let us take care of your professional restoration while you take care of yourself and your family. Before you know it, your home or business will look like the fire never happened.