Complete Commercial Restoration for your Longmont, Colorado Business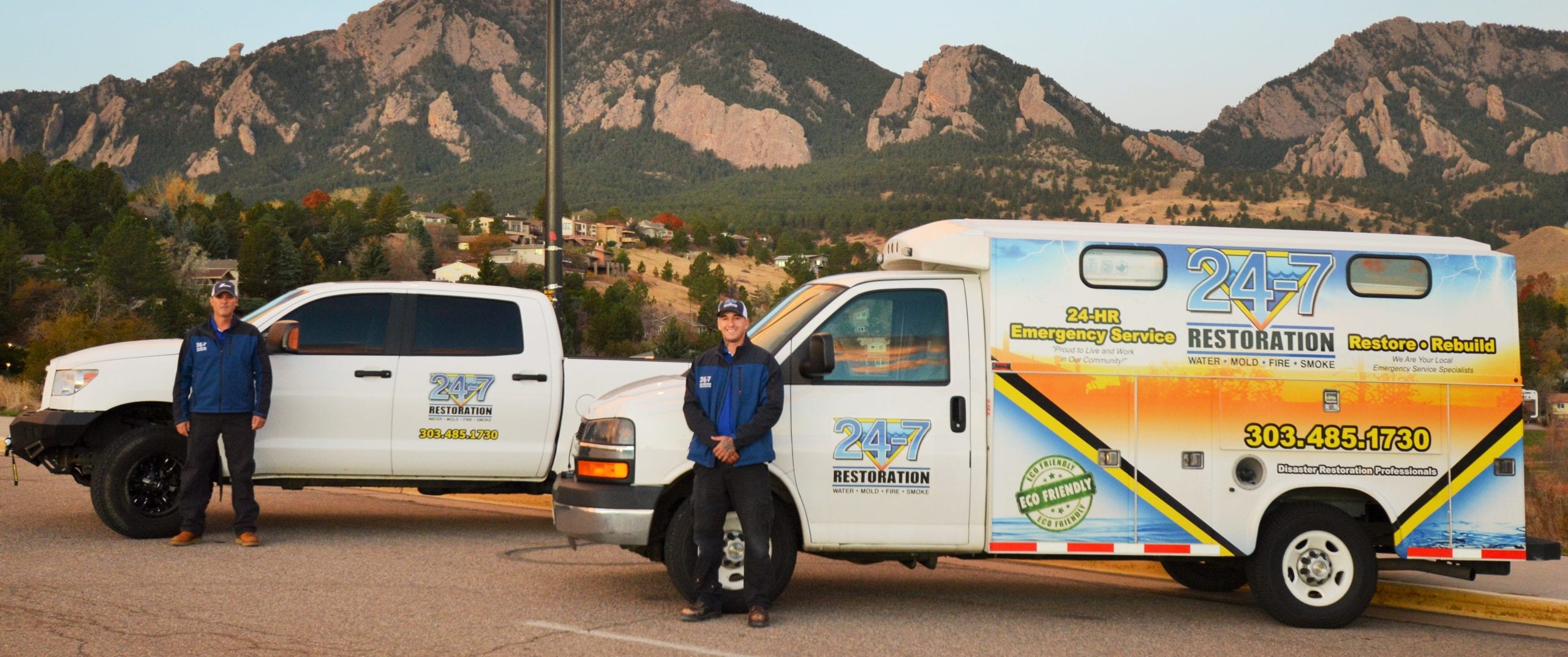 Emergencies happen, and unfortunately, there's no way to prepare for them. When your Longmont, Colorado business is facing the devastating damage of a flood, fire, or other unexpected events, it can seem like there's nowhere to turn. As a business owner, you're facing more responsibilities than a damaged building. You have customers and employees who count on you. 24-7 Restoration is a full-service restoration company serving both residential and commercial customers in Longmont and the surrounding Front Range, Colorado area. When you're facing a disaster, we can help you get everything back to normal.
A Full Line of Complete Restoration Services for a Variety of Unexpected Events
A commercial building seems large, solid, and untouchable. Sadly, something as small as a half-inch water pipe can do a significant amount of damage. Whether you're facing storms, burst pipes, sewage, fire, or any other kind of disaster, our experienced team is prepared to help. We know there are a variety of things that can go wrong within a commercial building (and we've probably seen most of them). When disaster strikes your business, don't try to take care of it alone. No matter what you're facing, we can help you pick up the pieces and get things quickly back on track. 
We provide our Longmont, Colorado customers with cleanup and restoration services for these disasters.
Choose 24-7 Restoration for Complete Commercial Restoration Services You Can Trust
Not every company that has "restoration" in the name actually restores your property. Some commercial restoration companies only do clean up. Others take care of clean up and additional services like mold removal. Most companies don't actually restore damaged buildings to their former condition or even better. 
24-7 Restoration is a full-service restoration company. That means we clean up the mess and take care of the repairs. We do it all in an environmentally safe manner that follows all IICRC guidelines and procedures, so you can count on safety now as well as in the future. When you call 24-7 Restoration to restore your Longmont, Colorado commercial business, you don't have to call in another company to finish the job. We love helping our customers get their business back on track, so we provide every customer with these benefits:
Rapid Response 24 hours a day 7 days a week

Licensed, trained, bonded, and insured professionals who provide the highest quality repairs

Open communication, including a thorough analysis of damage and regular progress updates

Direct insurance billing, so you can have one less hassle to deal with

Complete repair services including the repair and rebuild of floors, ceilings, walls, paint, and any other repairs you need to make your property as good as new

An understanding team who will listen to your needs and put you first
When disaster strikes your Longmont, Colorado business, don't try to face it alone. If your property is within our service area, we can be on-site within 60 minutes to help you get things under control and start the process of getting back to normal. Make your first call the right call.
Get in touch
with a company that can take care of your complete project for a full restoration.