Specialized Water Damage Restoration For Thornton, Colorado
Thornton, Colorado's Most Dependable Water Damage Restoration Team
Water damage seems to occur at the most inconvenient times. Whether you are contending with an overflowing toilet or a burst pipe, you need to act quickly to minimize damage to your home. Fortunately, you can help avoid long-term destruction to your home by seeking help from a professional restoration company right away. As Thornton, Colorado's most trusted water damage restoration experts, our goal is to assess and restore your property quickly and safely to prevent costly long-term structural damage from occurring.
What are some key causes of water damage in Thornton, CO?
Water damage can develop as a result of many factors. In most instances, water damage to homes in Thornton is caused by a leaking roof, cracked water pipes, or an overflowing toilet or sink. Water damage to Colorado homes is often related to prolonged exposure to snow and sleet. Thornton is known for its periods of heavy snowfall, with the area receiving an average of 46 inches of snow per year - a level that is nearly 20 inches above the national average. Here are some specific causes of water damage in Colorado: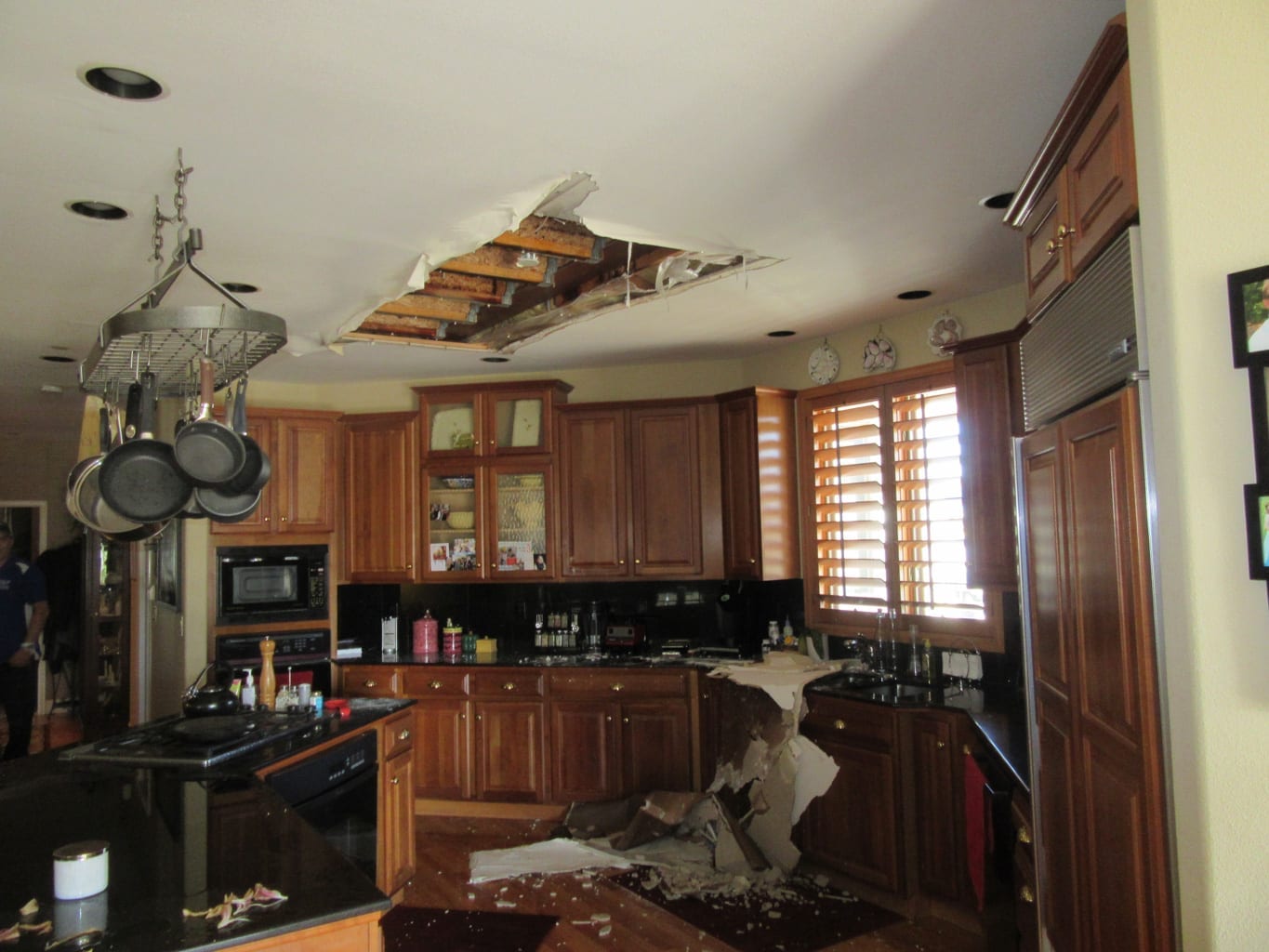 Our Comprehensive Water Damage Restoration Process 
When your property is affected by water damage, your first call should be to your insurance company. Then, it is vital to seek the services of a professional restoration company immediately. At 24-7 Restoration, we are available all day every day to take your call and hit the ground running to restore your property as quickly as possible. Here are a few things that you can expect when you seek the services of our skilled technicians:
A swift evaluation: Upon receipt of your call, we will schedule an evaluation right away to assess the extent of your damage.
Professional technicians: Our technicians arrive on time and will be professionally dressed with the proper protective equipment.
Removal of contaminated property: We will remove and properly dispose of any contaminated belongings that are unable to be restored.
Mold removal and remediation: Our technicians are trained to detect and professionally remove mold and mildew from your property.
Carpet and floor cleaning: We have the tools and equipment needed to safely remove water and debris from your floors and carpet.
Full satisfaction: Our job is not complete until every area of your property has been fully inspected and cleaned.
Collaboration with your insurance provider: We are accustomed to working with area insurance providers to handle your claims.
Why 24-7 Restoration is Thornton, Colorado's most trusted water damage restoration company
For years, the professional technicians with 24-7 Restoration have restored and repaired homes and office buildings in Thornton that have sustained water damage. Our team of experts restores residential and commercial properties in the Front Range area. Our goal is to exceed your expectations and become the best service provider in our industry. Here are a few reasons why you should select 24-7 Restoration to treat your water damage:
Swift Service: Every second counts when treating water damage. As our name implies, we provide top-notch emergency service 24-7.
Skilled Technicians: Our technicians are certified to clean and repair water damaged carpets as well as structural drying techniques.
Licensed and Insured: Our business is fully licensed and insured for your protection.
A Focus on Quality: We adhere to International Institute of Cleaning & Restoration Certification (IICRC) standards to ensure quality work.
Professional Memberships: We belong to the Restoration Industry Association (RIA), Indoor Air Quality Association (IAQA), and the IICRC.
Convenience Minded: Your comfort is important to us. In most cases, you will not need to leave your home while we restore your property.
Given these qualities, it is no surprise that 24-7 Restoration is accredited by the Denver/Boulder Better Business Bureau (BBB) and is the recipient of rave reviews by area clients. We invite you to contact us today to find out why we are Thornton's most trusted provider of water damage restoration services. We look forward to helping you restore your property today!