Experienced Water Damage Restoration In Westminster, Colorado
When Disaster Strikes, 24-7 Restoration Strikes Back
Prompt Emergency Water Damage Restoration Services in Westminster, CO
One of the most devastating problems that a homeowner can deal with is water damage. Not only do you have to worry about replacing the items that the water damaged, but you also have to worry about things like mold and mildew, along with the health problems that they can come with.
Like fire, damage from water can happen without warning, destroying your home and peace of mind. We understand how hard it is to deal with water damage, and we want to help. We want to have your peace of mind restored by giving you back your home in the same condition that you remember and love, and maybe even better.
Anytime we are called out to help one of our customers in Westminster, Colorado, we see how much pride the residents take in their town and community. There are so many wonderful things to love here, from the beautiful Butterfly Pavilion and Insect Center to many escape rooms and, of course, the Rocky Mountains. There are also incredible new communities going up, like Hyland Village.
If you live in Westminster, you also know hard the winters can be with over 5' of snow on average. This can really make your roof take a beating. Whether it's water damage due to a leaky roof, a leaky pipe or something else, we're ready to help! Call us today and see what a difference 24-7 Restoration will make to help you get your home and your life back on track.
What Causes Water Damage?
When it comes to water damage, there are 8 common reasons that it happens.
Air Conditioner - The air conditioner might seem like it's working well, but you want to make sure that you're having it serviced annually to make sure nothing's malfunctioning. It removes the moisture from your home's air and sometimes there's a buildup of the moisture in the air conditioning unit. If it's not drained properly, that water can leak slowly into the house.
Dishwasher - Your dishwasher is another possible way that your home can become water damaged. If it's not sealed properly, due to a broken latch, it can cause a leak and water damage.
Washing Machine - The washing machine is another possible cause of water damage. You can help avoid this by performing checks regularly on the unit, looking under it along with behind it. Be sure that all of the fittings are connected securely and that its underbelly isn't leaking water.
Burst or Leaking Pipes - One of the biggest reasons that people have water damage is because their pipes are leaking or have burst. A leaking pipe can be due to it having a loose fitting. One sign of this is that you have a higher than normal water bill.
Clogged Drains - When you have a clogged drain, it's not simply annoying. A clogged drain can lead to water damage and growth of mold if you leave it unchecked. Along with water damage and mold, it also can lead to water backing up into your sink or shower or going onto the bathroom floor.
Leaky Roof – Whether it's a bad rainstorm or a heavy snow, having a leaky roof can lead to a lot of problems, including water damage to your home.
Flooding –Flooding can be devastating in and of itself, but when you factor in the cost of water damage, it can really be heartbreaking.
Sewage Backup - When your toilet gets clogged or your septic tank becomes full, it can cause sewage backup and cause your toilet to overflow. Depending on how bad this backup is, it can cause damage not just to your bathroom but to adjoining rooms/hallways.
No matter what caused your water damage, one thing you want to do is have someone who can come in and make your house like new again.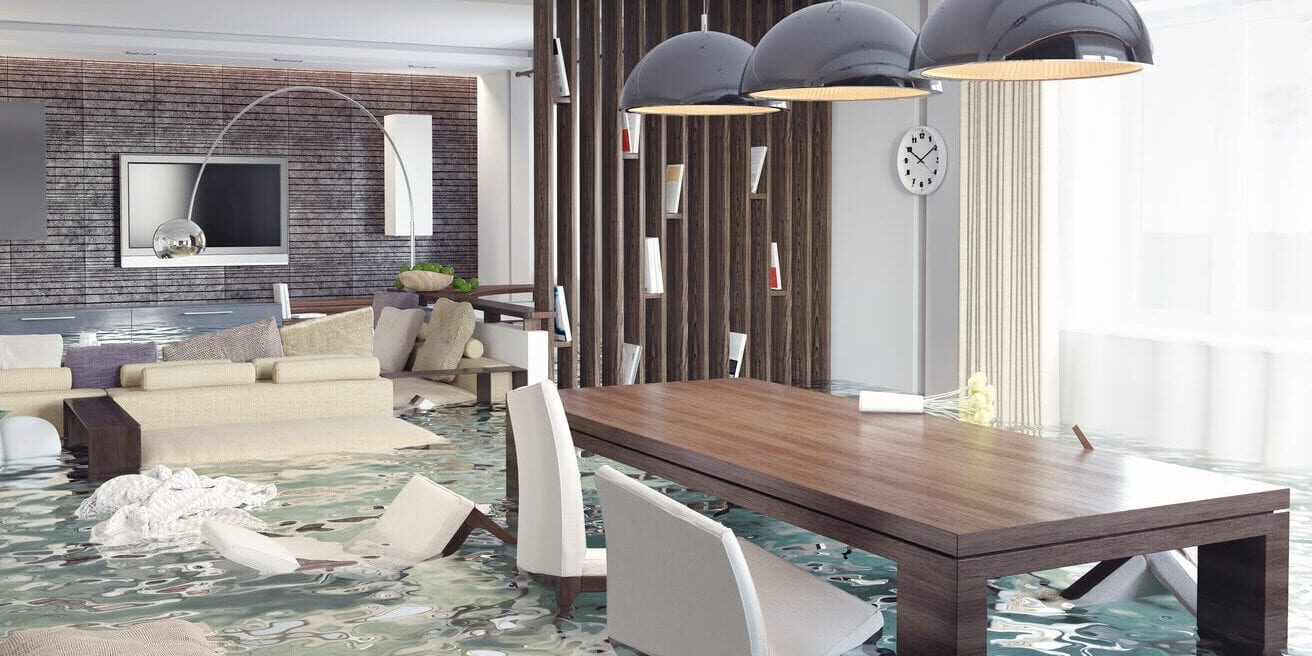 How Do We Help?
There are many companies who offer water damage restoration. So why should you choose us?
We Have Specialized Equipment
We have specialized equipment called the Xtreme Extractor. This lets us remove the clean water from the pads and carpets in your home without having to remove them. This dries out your carpet while it's installed. This means that you can stay in your house while it's being dried out. This process only works if the water in the carpets is clean. If it's sewage cleanup, it will require reconstruction and disinfection that's much more intense.
We Offer Fast Service & Lasting Results
No two types of water damage are the same, because it comes in many sizes and shapes, and each of them comes with its own set of challenges. Water damage that seems minor can lead to major problems like structural damage and mold, and even worse if it's not handled quickly. We know how important your home is to you, and that's why we are available 24 hours per day, 7 days per week. When there's an emergency, we can have one of our specially trained crews there in just one hour. The crews have been trained in any possible type of water damage, and they're ready to take care of the problem no matter the amount of damage or how bad it looks.
We don't just work quickly; we provide thorough work as well. All guidelines and processes of the Inspection, Cleaning, and Restoration Certification are followed, meaning that you're getting the best results each time.
What We Offer
Communication is key to us. This is what will happen when you choose us:
First, we thoroughly document your damage and take moisture readings, photographs, and measurements.
We then give you this information, so you understand what you are dealing with.
We then give you frequent updates through your drying process and reports on your restoration status. You'll always know what is going on and what kind of condition your home is in. The 24-7 team will also document the whole process and do everything we can to work with your insurance company.
Why Should You Choose 24-7 Restoration for Water Damage Restoration in Westminster, Colorado?
We go above and beyond other water damage restoration companies. Most of the other companies that offer our services clean up, and they do a wonderful job. However, that's where they are leaving you. You're still going to have to find another contractor for repairing and rebuilding your carpets, paints and anything else that's damaged. But when you choose us, we don't just make sure that we thoroughly clean up the areas that are affected and ensure they're dried out to prevent mold damage and growth. We also have a large and experienced staff for rebuilding, repairing and reconstructing on your site so that the job is done.
Our company is different in that we see the job through from beginning to end. We don't stop after we've cleaned up. We also are able to do any type of construction that is necessary for putting your home back the way that it was. Our staff is highly trained and professional, and they will document everything, communicating with you through every part of your restoration process.
It doesn't matter what type of damage your home has experienced, because we can do it all. We can do:
Flood and water damage
Mold removal
Sewer damage cleanup
Hail and storm damage
Sewage cleanup
And a lot more for residential and commercial properties
It doesn't matter what day it is or what time it is. It can be 6 pm on Super Bowl Sunday, even. Our name says 24-7 Restoration and we mean it. We know that disasters don't take a holiday and neither do we. We're always ready to come out to you and help you with getting your home and your life back in order.