Reclaim Your Gunbarrel, CO Business with Services from an Experienced Commercial Restoration Company
No Matter What Kind of Disaster You're Facing, We Have the Knowledge and Tools to Help
Your Gunbarrel, Colorado business is an important part of the community and vital for your lifestyle. Yet, when an unexpected event disrupts your commercial property, you may wonder if you'll ever get things back to normal. Unfortunately, disasters are completely unpredictable. They often arise from benign circumstances that quickly get out of hand. From fire or extreme weather to burst pipes and sewage backup, there are many events that can make your commercial property unusable and even endanger the building's occupants.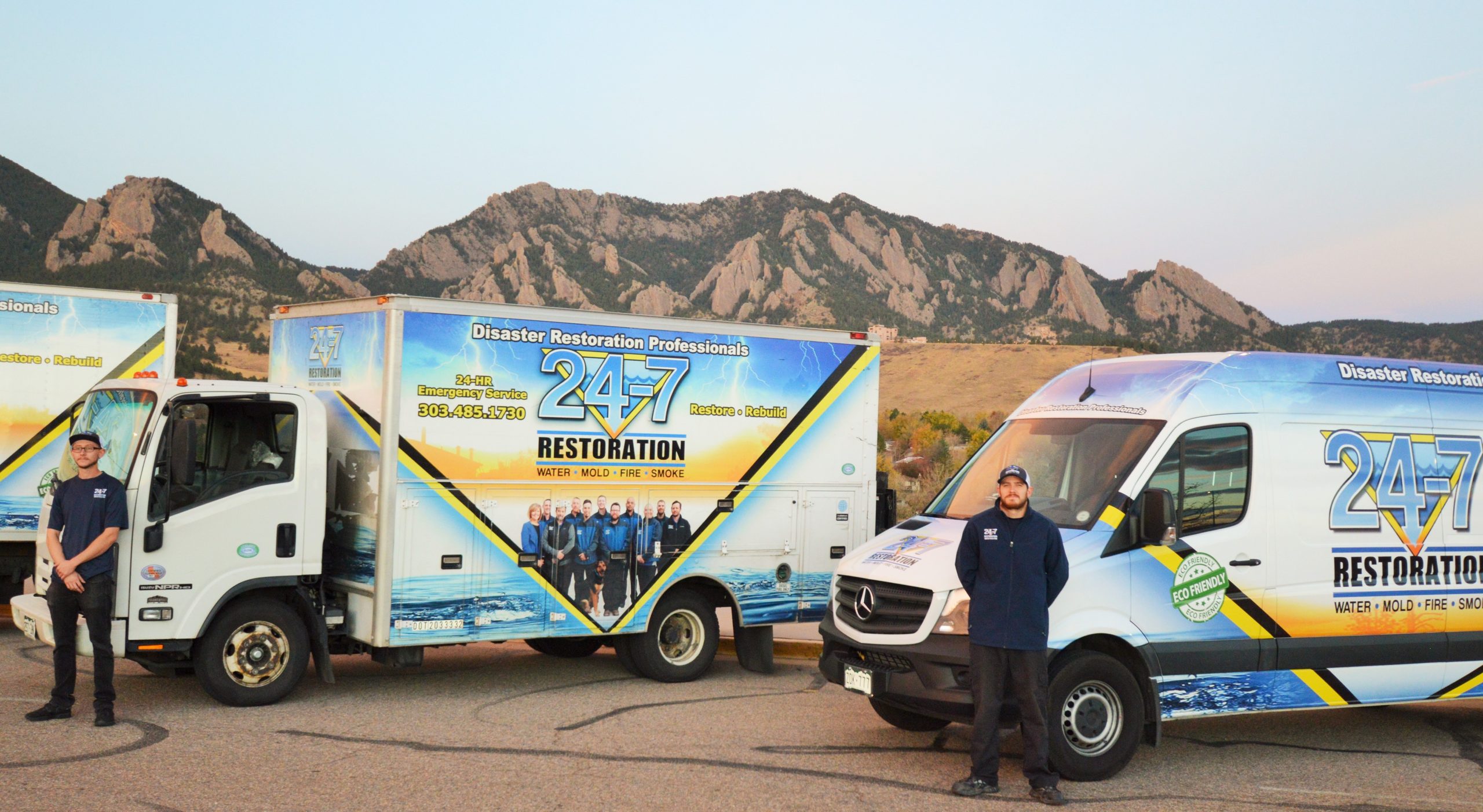 A disaster that affects your business is not something you should face alone. Seemingly mild damage can have hidden dangers. Incomplete cleanup and restoration can leave behind contaminations like mold, bacteria, smoke, and unseen disturbances that can affect the structure of your building and the health of its inhabitants. At 24-7 Restoration, we have ample experience handling all types of disasters. As a full-service commercial restoration company, we have the knowledge and professional tools to completely eradicate the damage for a proper restoration.
When you call 24-7 Restoration, you can count on us to respond immediately and be on-site within the hour. Upon arrival, we take steps to secure the scene and eliminate any potential danger and ongoing damage. Once the site is contained, we get down to the business of complete cleanup. Whether the situation requires water extraction, eradication of smoke and fire damage, or mold removal, you can count on our team to remove all damaged structures for a job done right, If you choose our team to complete full restoration, we have experts on staff to return your commercial building to its original pristine condition. When disaster strikes your business, don't face it alone. Make your first call the right one, and get in touch with 24-7 Restoration.
Gain the Benefits Provided by a Professional Restoration Company
Many cleanup companies will take on the task of cleaning up damage, but you'll typically have to hire a second contractor for the rebuilding process. 24-7 Restoration is a commercial restoration company that will not only clean up the damage but also take care of the rebuild process if you choose to stick with us for your entire project. It's our goal to be a source of support for customers who are facing a disaster. These are the benefits you can expect when you contact our team.
We have a technician on hand 24-7 to take your call and have a crew on site within 60 minutes if you're within our service area.
We work with your insurance, to take one more task off your to-do list.
Our teams use professional tools and proven methods to ensure damage is completely eradicated before reconstruction begins.
We provide a thorough analysis of all the damage we find and will keep you updated with reports throughout the project.
Eco-friendly processes and products are used when possible.
We offer a 2-year guarantee on our work.
In many situations, you don't have to evacuate your building for us to get our work done.
We strictly follow all IICRC guidelines and procedures to make sure we minimize invisible threats.
Our team members are licensed, trained, bonded, and insured in order to provide you with the highest quality repairs.
Witness the Effects of Complete Commercial Restoration Services
Substantial damage can make you feel as though you'll never get your building back to normal. Take a look at our before and after pictures to see the amazing results of complete restoration services.
Choose a Licensed and Experienced Restoration Company to Overcome Disasters on Your Gunbarrel, CO Commercial Property
An unexpected disaster that affects your business can leave you feeling alone in the world. We want you to know that we're available to stand by your side and help you pick up the pieces. Whether your commercial property has been affected by fire, water, or some form of disaster you never imagined, we have the tools, knowledge, and experience to help you get back on track. From flooded basements to mold cleanup, to fire damage and restoration, and beyond, we make it seem like the disaster never even happened. When you need assistance from a commercial restoration company you can count on, make your first call the right one. Contact 24-7 Restoration for a rapid response and thorough services that will return your commercial building to its original pristine condition.
Our Customers Appreciate Our Knowledge and Support