Fast to Your Door Water Damage
Restoration Team in Loveland, Colorado
There is no way to prepare for the potential disasters related to water damage in your Loveland, Colorado home or business. Unfortunately, the scope of damage caused by burst pipes, a leaky roof, or a plumbing disaster can be a nasty surprise. Whether you're facing an unexpected leak upon returning home from work, or a burst pipe at 3 a.m., the 24-7 Restoration team is available to take your call and quickly begin the restoration process.
The Dangers of Water Damage
Surprisingly to most, a small amount of water can cause significant damage to your home. Water removal can quickly help things look better, but if it's not properly taken care of, danger still lurks beneath the surface. When water damage isn't properly removed, and the area is covered up problems can quickly begin to multiply on your property.
A common result of water damage is deterioration of the building where the problem occurred. Simply cleaning up doesn't repair a slow leak or fully remove the dampness within the structure of your home or building. Even if everything looks as good as new, dangerous mold can be growing beneath the surface of your walls or floor. Additional worries include structural damage that can weaken your walls, floors, the electrical system, and even the foundation of your home.
A lesser-known problem that occurs with water damage is danger to the health of anyone who uses the building. Mold growth can be a serious trigger of allergies, asthma, and other respiratory illnesses. If mold continues to grow invisibly between walls or underneath flooring, the effects can worsen your health and the health of your family or employees significantly over time. Additionally, depending on the source of the water damage, bacteria and parasites can infect your home or business, leading to serious health threats.
Properly recovery from water damage is more than simply removing visible water. It's vital to find the source of the problem and completely extract any moisture in the building before a proper restoration can begin.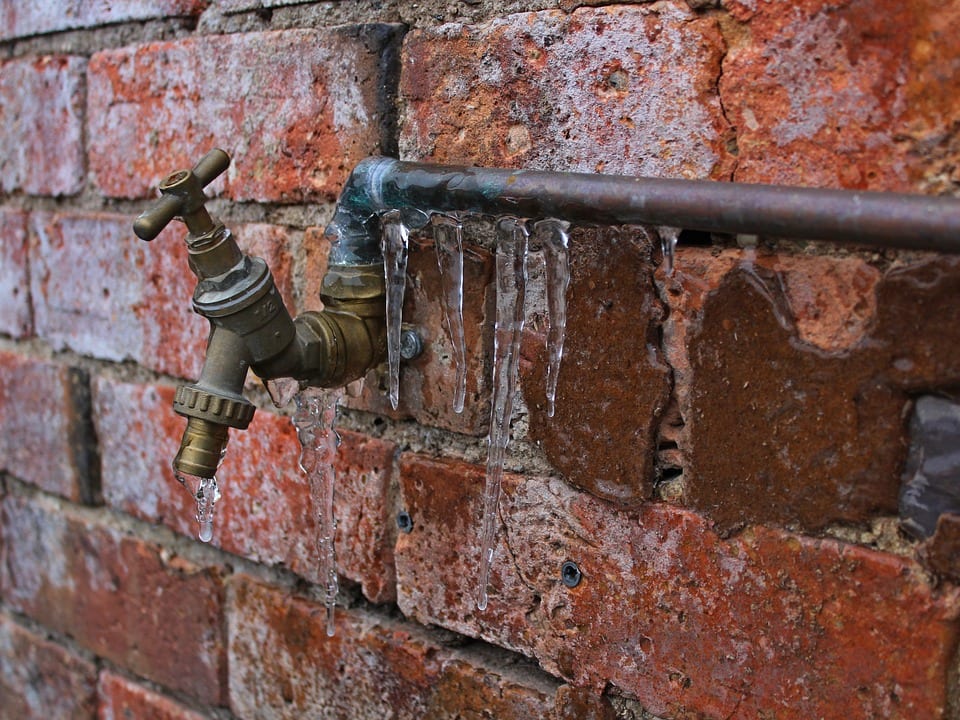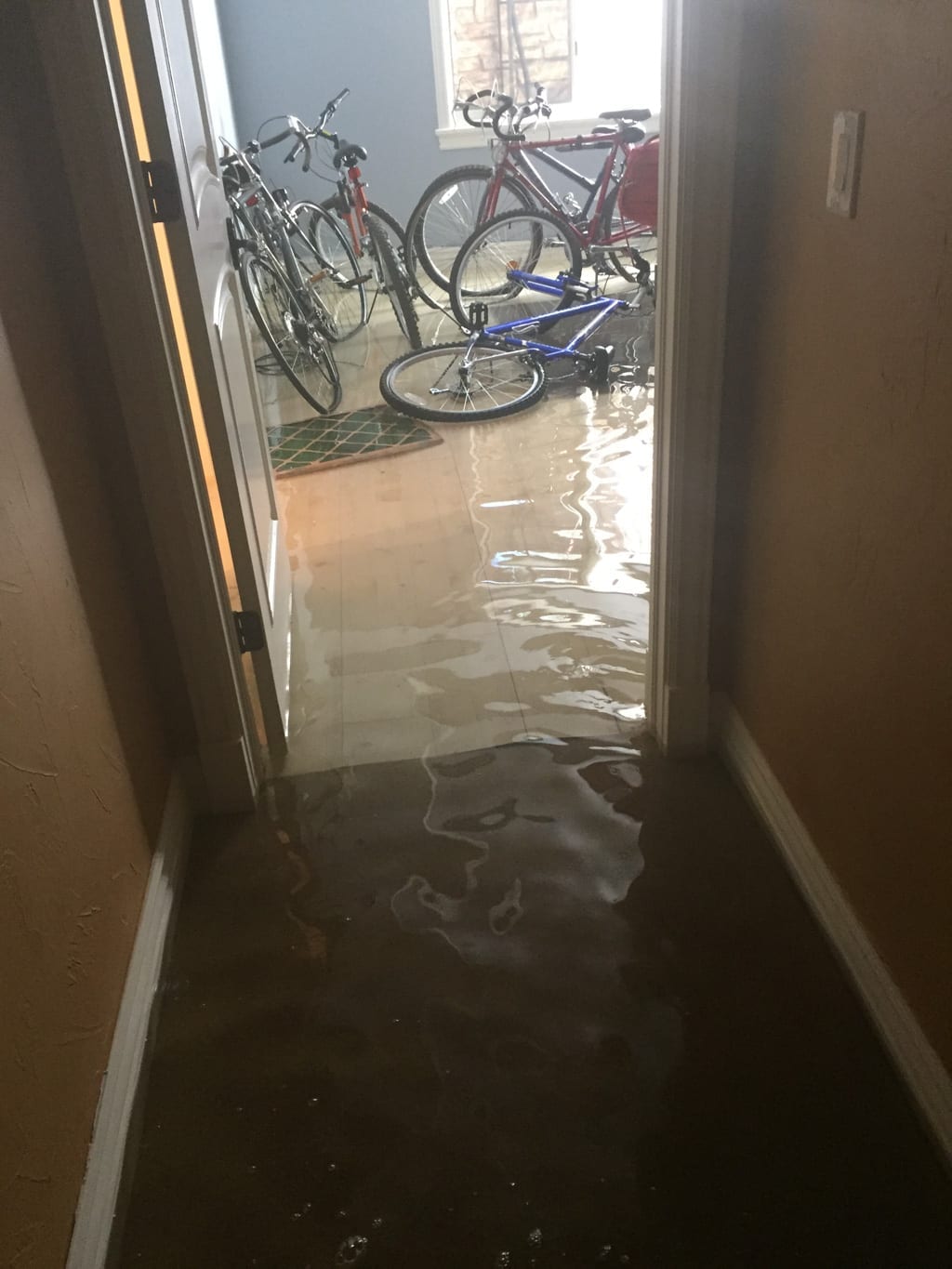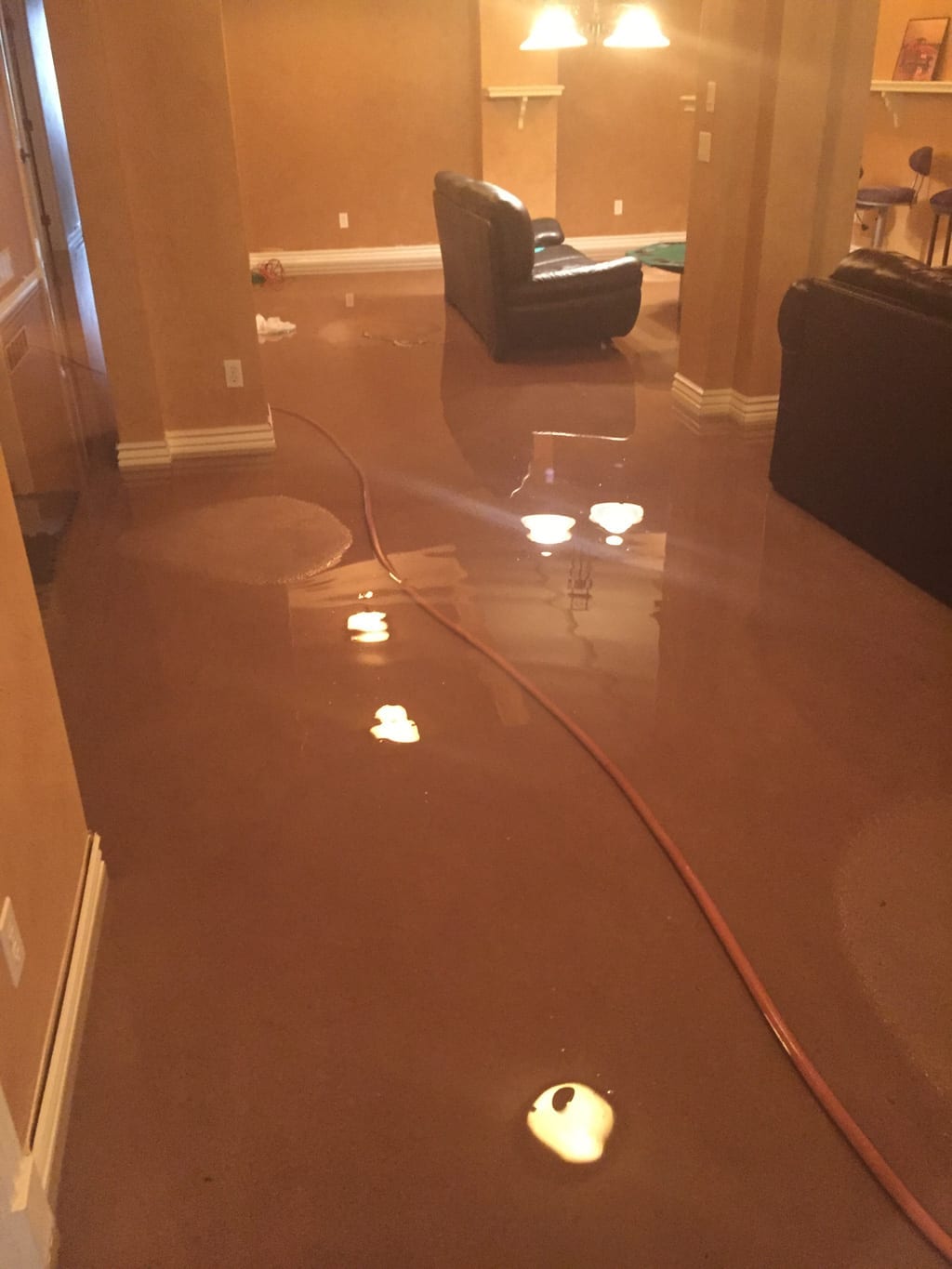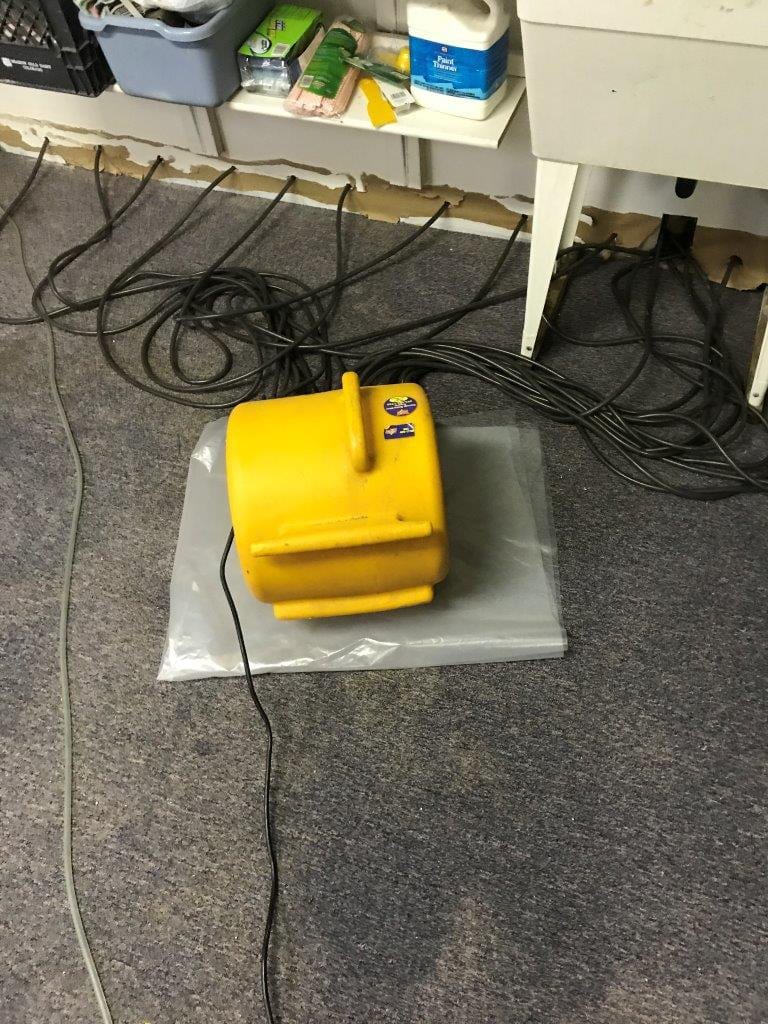 The 24-7 Restoration Water Damage Restoration Process
Water damage restoration requires two processes. First, the damage must be cleaned up. Then the rebuilding process can begin. Our Loveland, CO team takes the right steps to ensure all dangers are completely removed and we document the entire process so you'll never have to deal with insurance disputes. Our 24-7 Restoration process begins with immediate action and doesn't stop until your home or business is completely restored. We take the following steps to remove water from your home.
We typically get a team to you within 60 minutes of your call. Acting within 24 hours is critical in helping minimize structural damage and mold growth.
Upon arrival, our team assesses the category of water damage.
Damage is documented through detailed photographs and written details including room measurements and moisture readings.
We use thermal imaging cameras to locate moisture for proper removal.
Rapid removal of standing water is taken care of with truck-mounted extraction systems and the powerful Xtreme Extractor that removes clean water without removing the carpet and pad.
After the water is removed, and contents are removed or placed on protective blocking, our team dehumidifies and completes the structural drying process in the least amount of time possible.
Our special process means you can stay in your home or continue to use your business the entire time. We keep you updated throughout the restoration with consistent communication, diminishing moisture readings, and the preservation of your home's vital structure. No matter how widespread and devastating the damage seems, our team has the expertise and state-of-the-art equipment to complete your restoration.
Choose 24-7 Restoration for Dependable Water Damage Recovery 
At 24-7 Restoration, it's our goal to be available in your time of need and take some of those water disaster worries off of your plate. You depend on the structures of your Loveland, CO home or workplace to be reliable and sudden water damage can make you feel like your world has been turned upside down. We understand how you feel and that's why we strive to provide honest ethical services our clients can rely on during tough situations. Here are a few things you can expect when you contact 24-7 Restoration for water damage recovery.
A quick response: We respond within 20 minutes and have a crew at your location within the hour if you're in our service area.
We make your health a priority: We use state-of-the-art equipment and 99% botanically derived cleaners which means that our cleaners are completely harmless for people, pets, and the environment.
Proper procedure: We strictly follow all Institute of Inspection Cleaning and Restoration Certification (IICRC) standards and procedures.
Transparent Communication: We keep you updated and informed about your project every step of the way.
Hassle-free insurance billing: We deal directly with your insurance company so you don't have to worry about claims being denied.
Hard work: Our team gets to work immediately, never cuts corners, and doesn't stop until your home or business is returned to its former pristine condition.
Respect: We know it's not easy to bring a team of strangers onto your property. When we're on your property, you're the boss and we ensure you're 100% satisfied with our customer service and completed work.
Complete restoration: Many disaster response companies will respond quickly and clean up the mess. However, you'll still be responsible for calling another company to restore the damage. 24-7 Restoration is a full-service restoration company that takes care of clean up and fully restores your home or business to its former glory.
If you're facing a water disaster on your Loveland, Colorado property, you need a professional team that can resolve the potential problems correctly. Call 24-7 Restoration and make your first call the right call. Our team follows all IICRC standards and procedures to ensure your home or business is completely rid of all dangers and fully restored to its former glory. You don't have time to interrupt your life with a water disaster. Let our team take care of your restoration while you continue to take care of your life.