Proper Repair for a Leaking Roof in Longmont, CO
A leaking roof on your Longmont, Colorado home or business is enough to fill you with a sense of dread. You'll need to call in a roofer and schedule repairs. Unfortunately, your leaky roof may require more than a simple roof repair. Many people fail to realize that a leaking roof can cause damage to a building that extends beyond the roof. Even worse, this damage generally occurs before the leak even becomes noticeable. Small leaks can cause several complications that lead to long-term damage to your home or business. Swollen walls and drywall, cracked ceilings, structural damage, and mold can occur while a small roof leak goes unnoticed.
At 24-7 Restoration, we're serious about leaking roofs. While our cleanup and restoration experts aren't roofing professionals, we provide complete, comprehensive care for the extensive internal damage caused by your leaking roof. When damage is already done, eliminating the water source is just one step in making your home or business safe again. Removing damaged materials, eliminating mold, and completely restoring your home or commercial building to its former, pristine condition is the only way to address the full scope of damage caused by the leak.
Complete Restoration Services to Eliminate Hidden Dangers
When a roof leak penetrates your ceiling to drip inside your home, water has already penetrated layers of building materials beyond the roof's surface. Materials that insulate your home and support your ceilings could be weakened or harboring mold. Unless you frequently inspect your attic for leaks, there could be significant damage to attic insulation, flooring, and walls. Our team addresses these dangers with the following services:
Inspection:

Our restoration experts conduct a full inspection to determine the damage caused by the leak. We document and take photos of the damage before beginning cleanup.

Cleanup and Removal of Damaged Materials:

Water damage can be extensive. We clean all affected surfaces. When materials are permanently damaged, we remove them for safe and complete replacement. We provide professional mold testing and mitigation services as well.

Full Restoration:

After removing the damage, we begin restoring your home or business to its former condition. All removed materials will be professionally replaced, so it appears as though the damage never occurred.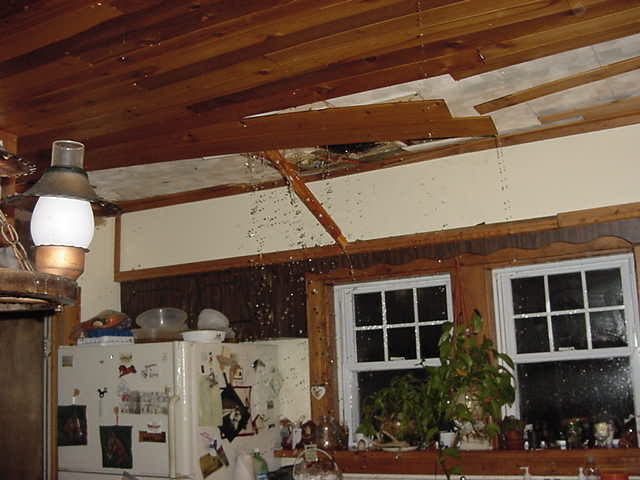 Choose 24-7 Restoration for Complete Repair and Renewal 
Simply stopping a leak isn't enough to ensure your home or commercial building is safe again. Removing damaged material and restoring the building to its former state is an essential part of removing the true dangers of a leaking roof. At 24-7 Restoration, we don't stop after simply cleaning away the damage. Our job isn't complete until your Longmont, Colorado home or business is completely repaired. We provide our customers with these benefits.
Prompt Response:

If you don't get an immediate answer to your call, we get back to you within 30 minutes. 

Environmental Awareness:

 We exclusively use botanically based cleaners that kill over 99.99% of bacteria while still being environmentally friendly.

Direct Insurance Billing:

The extensive internal damage caused by a leaking roof can be a complicated subject to broach with insurance companies. We work directly with your insurance carrier to take care of the bill with no stress for you.

Complete Restoration:

There are many companies in the area that respond to emergencies and provide cleanup services. We're the only ones that completely repair the damage and return your home or business to its original condition.
Ignoring the hidden dangers caused by a leaking roof won't make them go away. Unfortunately, even after the roof is repaired, the existing damage can get worse over time. When you're facing extensive damage from a leaky roof, you don't have to take care of the damage alone. Our team is standing by to help you carry the burden, and make your home or business safe again. Make your first call the right one, and
contact 24-7 Restoration
for complete restoration of the damages caused by your leaking roof.