Full-service Commercial Restoration
for Your Loveland, Colorado Business
No amount of careful planning can make you truly prepared when an unexpected disaster strikes your Loveland, Colorado business. Inclement weather, fire, and plumbing issues can all be responsible for significant damage to your commercial building. Property damage is difficult to face, but as a business owner, you have a host of additional responsibilities to consider. Your employees and customers depend on your business, and downtime can quickly become devastating.
When disaster strikes your business it's difficult to know where to turn. 24-7 Restoration provides a full line of commercial restoration services to help you get back in business right away. Our expert team can have a crew on-site within the hour in our coverage territory and we don't stop working until your commercial property is back to normal.
Complete Loveland, CO Commercial Restoration Process for a Variety of Disasters
No matter what caused damage to your commercial property, cleaning up the destruction as quickly as possible is a crucial step. No matter what type of emergency you're facing, our licensed experts have a specialized process to remove debris and potentially dangerous contamination to make your business truly clean and safe again. The 24-7 Restoration process takes care of these catastrophes quickly and efficiently so you can get back to business.
Categories and types of water damage can be found on our "Resources" tab.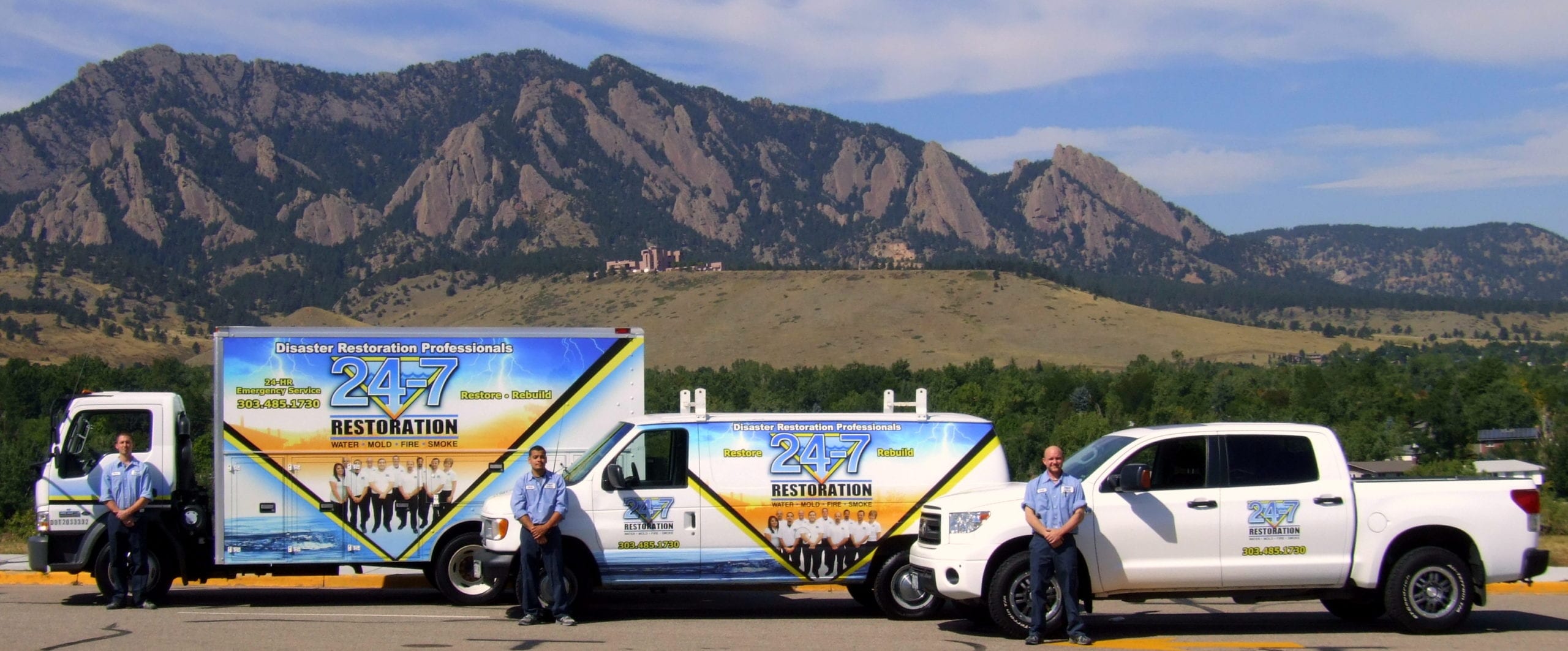 Water Damage
Often caused by sudden and accidental plumbing issues or leaky roofs, water damage can be devastating to your business. You don't have the time to take a month off to remove your carpets and padding to clean, dry, and repair the damage. Luckily, the 24-7 Restoration team has a specialized policy to keep your business on track. Our Xtreme Extractor tool and other state-of-the-art equipment allow us to remove clean water from your carpets and padding without removal on a clean water loss and we ensure accurate results with exact measurements and moisture readings.
Flood Damage
Surviving a flood is a difficult experience. Finding the help you need to get back on your feet doesn't have to be. Our expert team takes care of flooding due to burst pipes, sewage backup, or inclement weather. First, we use specialized tools to remove water from carpets or hardwood floors. Then, we extract humidity and repair walls, floors, paint, and any additional damage until your building is as good as new.
Fire and Smoke Damage
The ravages of fire don't end when the flames are extinguished. Your building and possessions are susceptible to additional smoke, water and mold damage. Fire damage restoration from our team begins with a documentation of the damage and a complete plan for restoration. The first step is immediately securing the building to protect your property from additional damage. Possessions are cataloged and moved to storage for safety while cleanup and restoration take place.
Sewer Damage Cleanup
Sewage backup is a formidable disaster to take care of. Even worse, when it's not cleaned properly, raw sewage can lead to serious dangers for you, your employees, and your customers. Our process follows a strategic step-by-step plan for complete restoration.
Containment: Affected areas are sealed off and put under negative pressure.
Extraction: Raw sewage is removed and porous building materials are removed.
Wash and disinfect: Remaining structures are power washed with disinfectant to remove microbes.
Sanitization: After disinfectant is extracted, an eco-friendly solution is used to sanitize the affected area.
Reconstruction: Items that were destroyed and removed during the process get replaced for a complete restoration.
Storm and Hail Damage
The only thing you can count on from Colorado weather is unpredictability. When storms and hail cause significant damage to your commercial property, 24-7 Restoration can help. Our experienced team can help you assess the damage inside the building and help you determine if you need roof repairs. We can also refer you to a roofer if you need additional repairs.
Mold Removal
The devastation of water damage often leads to other dangerous contaminants in your building. Mold isn't only unsightly and gross, it can lead to serious health complications. Our mold removal process begins by sealing off the contaminated area. Building materials that hide mold are removed for proper cleaning. We use a variety of professional cleaning methods to completely eradicate mold safely. After the mold is removed, we use a HEPA vacuum and fungicide to complete the process. We even bring in a third party to get air and surface sample readings prior to the project start.
Choose 24-7 Restoration for a Commercial Restoration Job Done Right
Restoration from a disaster requires more than simple cosmetic repairs. Our licensed experts understand the dangers underlying the damage you see on the surface. We don't just make things look better, we completely repair the damage to make your commercial property as good as new. Unlike companies that claim they have expert teams, the 24-7 Restoration team guarantees these exemplary services.
We respond within the hour if you're located in our service area. 24-7 isn't just a name, our experienced crews respond immediately to any emergency day or night.
We clean, remove contamination, and rebuild, providing a full-service commercial restoration. Most companies only provide cleanup, forcing you to hire multiple companies.
We work directly with your insurance company. Dealing with property damage is stressful enough. Our team members have the experience to deal directly with your insurance company, taking one more thing off your plate.
We always keep you informed. During every step of the process, we provide updates, readings, and pictures of our fast-moving progress.
Every member of the 24-7 Restoration is fully trained and bonded to provide the highest quality repairs. We strictly follow the standards and procedures of the Institute of Inspection Cleaning and Restoration Certification (IICRC).
Facing commercial property damage is a stressful situation. You shouldn't have to face it alone. At 24-7 Restoration, we understand what it's like to see the devastation that results from property damage. No business owner deserves to endure an incomplete cleanup or the hassle of hiring multiple companies to provide thorough cleanup and restoration. When disaster strikes your business, make your first call the right call. Get in touch with 24-7 Restoration for a crew to begin your clean up the right way and restore your business to its former glory.